The last issue to be resolved was the defense motion to dismiss on grounds of double jeopardy. If the judge ruled in John Peel's favor, it was game over. The U.S. Constitution is clear. You cannot be tried for the same crime twice.
Judge Carpeneti issued his ruling on November 13th, only days before John Peel's second trial was set to begin. Prior to issuing his ruling, he did his homework. He focused on the August 28, 1986, proceedings. He dialed in on the mistrial declaration. He pored over the transcript and tape recording. He also considered various briefs and affidavits filed by the opposing parties.
Carpeneti ruled against John Peel. He wrote:
"As with most double jeopardy cases, this one turns on the facts, and defendant's contentions simply do not survive a careful reading of the transcript and review of the audio recording. Defendant moved for a mistrial, indeed demanded one in the strongest terms. That motion was never denied; neither was it withdrawn.
When the motion was granted, the defense lodged no objection, nor did it in any other way make any record of a change in position for purposes of review. After defendant was granted the mistrial he requested, counsel for several more minutes argued matters which clearly indicated an awareness of the probability of a retrial. On these facts, consent clearly has been established."
One year and two months after his mistrial, Carpeneti batted away the double jeopardy motion. John Peel would face a Juneau jury in his second trial on murder and arson charges.
Judge Carpeneti immediately requested a bigger courtroom in Juneau's Federal courthouse. The crowds would soon fill the space. His own courtroom was too small.
---
Excerpts from the unpublished original manuscript, "Sailor Take Warning," by Leland E. Hale. That manuscript, started in 1992 and based on court records from the Alaska State Archive, served as the basis for "What Happened in Craig."
Copyright Leland E. Hale (2020). All rights reserved.
---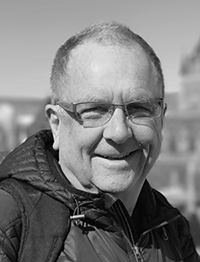 Order "What Happened In Craig," HERE and HERE. True crime from Epicenter Press.