Memories. Sweet memories. There are things we can't forget. Things that are gone in a microsecond. There are recollections that seem solid, only to crumble on closer inspection. Then there are recollections that shake back to life with a sudden twitch of recognition.
One man with recollections was Charles "Fat Charlie" Clark. He was the man who helped eliminate John Peel as a suspect on the day after the Investor fire. But four years later, Clark told a different story. On the witness stand in 1986, he said he didn't know John Peel in 1982. That shift cast doubt on the Kolivosky report that had him dismissing Peel by name as the possible skiffman.
Not only that, but Clark said he wasn't close enough to the Investor skiff to identify the man at the wheel. All he remembered now, he said, was that he changed course to avoid the wake of the Investor's skiff. The video below, taken in Craig, illustrates how difficult it is to ID someone in a skiff at distance.
The change in testimony meant that Charlie Clark's love affair with the defense was over. They tried to savage him, first by unsuccessfully trying to enter his convictions for perjury and robbery into the record, then by waving his alleged statement to Captain Kolivosky in his face. In an ironic turnaround, Peel's attorneys now wanted jurors to believe the police — whom they had savaged for incompetence — and not the witness once deemed crucial to John Peel's defense.
Witness Alice Irons was equally intriguing. She had been a waitress at Ruth Ann's during the summer of the murders. The Coulthurst's sat at one of her tables the night before they were killed. She had seen someone with them, but didn't know who. A chance encounter in the hallway of the Ketchikan court gave her the first clue.
A smoker, Irons had gone to the designated smoking area for a cigarette prior to her scheduled testimony. She was sitting next to another witness and, while the two of them talked, John Peel passed by on his way to a courthouse office Judge Schulz had loaned to the defense. The other witness knew Peel, and said, "Hi, John." Irons had a gut feeling that the man she'd just seen was John Peel. Her fellow witness confirmed her instinct, saying, "That's John Peel."
When Peel came by a second time, on his way to the bathroom, Irons scrutinized him. When he returned from the restroom, Irons said, "he was looking straight at me in the eye. That is when I seen him. I knew that was the man that I'd seen in the restaurant. He was the guy sitting at the table that night with the Coulthursts."
She was "shocked" and a "little scared" at hearing Peel's name and seeing his face, she told Schulz in a hearing called to determine whether she could testify about what she'd seen. "He's what I'm here for," she insisted. The prosecution was anxious to get her in front of the jury, because her recollections provided evidence that John Peel had lied when he told police he'd gone to bed early on the night of the murders. Not only was he awake, according to Irons, he was with the people he was accused of killing.
For the defense, Irons' new-found positive identification was one more sign of witness bias toward the prosecution. Her identification of Peel, they said, was "tainted." Schulz decided to let the jury reach its own conclusions. He said she "was reasonably clear on the important points," and had known within seconds of glimpsing Peel that he was the man she'd seen at Ruth Ann's.
Days later, with the jury present in the courtroom, Irons pointed at Peel when asked if she could identify the man she'd seen. "I'm sure that's him," she declared. "He has a very distinct face. I just remember his face."
---
Excerpts from the unpublished original manuscript, "Sailor Take Warning," by Leland E. Hale. That manuscript, started in 1992 and based on court records from the Alaska State Archive, served as the basis for "What Happened in Craig."
Copyright Leland E. Hale (2020). All rights reserved.
---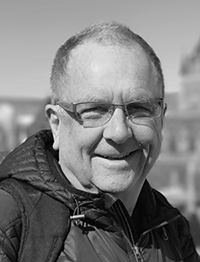 Order "What Happened In Craig," HERE and HERE. True crime from Epicenter Press.