At the halfway point in State of Alaska v. John Peel, a handful of assessments are worth noting. The three ladies from I.S.P.Y. provide some of them. So does Peter Carbonara, who wrote a scathing retrospective entitled, A Burnt-Out Case. I'll also circle back to some of my own observations.
State of the Case: At the halfway point, this case was still a circumstantial one, among the toughest to prosecute. As Peter Carbonara notes, "Hamstrung by a botched police investigation, the prosecution, headed by [Assistant District Attorney] Mary Anne Henry, [wanted] to convict without being able to provide a motive, a weapon, or any physical evidence linking Peel to the crime. Worse, the state was baited into a series of personal confrontations by Peel's bombastic trial counsel, Anchorage solo practitioner Phillip Weidner."
Phillip Weidner: Weidner's strategy was clear: he would hector and harass anyone who represented authority. Police officers. The D.A. The judge. A prolific brief writer, Weidner filed motion after motion, constantly luring his opponents into responding. The prosecution noticed: "[The defense] tried to reduce this case, in my view, to personal attacks on the state's attorneys," Mary Anne Henry told Carbonara.
Mary Anne Henry: Henry had faced Weidner once before, in a vehicular homicide case that ended up in a mistrial. She knew she would weather a storm of motions and accusations. She also knew the case would be hard to prove — harder still because the Judge ruled portions of evidence inadmissible. Evidence that she felt was critical to her case. In reaction, Henry called 77 witnesses. In lawyer-speak, by the halfway point Mary Anne Henry was guilty of over-trying the case in order to sneak up on a guilty verdict.
Larry Demmert: Of all the witnesses that could tie John Peel to the crime, Larry Demmert came closest to the gotcha moment. But observers noted that Demmert had problems. "He was just a druggie that was recovering," recalled court regular Marcia Hilley. "If Peel had done it right in front of him and he watched him do it, I don't think Larry Demmert could have told you what he really saw that day." But, she added, she felt sorry for Larry Demmert. Phillip Weidner "was so cruel to that kid."
And if Phillip Weidner had been cruel, the state and police officers hadn't helped him either. According to Hilley, they should never have taken Larry Demmert to get valium.
UPDATE: During the trial a nurse, who treated Demmert during that time, tried to explain why Demmert acted as he did. Nurse Jerri Kelly testified that Demmert told her, in an emotional confession, that "Peel needs me to give him an alibi and I can't do that because he wasn't on my boat."
Bellingham detective Dave McNeill put that in context when he testified, only days after Kelly, that Demmert had asked for protection because he was "fearful of retaliation by Mr. Peel and his friends." McNeill also told jurors that Demmert was "afraid someone was watching his house" in March of 1984 — six months before he first implicated John Peel in the crimes.
At the halfway point, fear was a constant.
Judge Thomas Schulz: Respected by Alaska attorney's as a tough, fair and good judge, Schulz had his hands full. The smallest of slights seemed to explode into bitter incriminations. At one point, exasperated, Schulz observed that, "It appears the attorneys would be more than happy to try each other rather than try the facts." Even at the halfway point, he ended up sending the jury out more often than anyone could count.
It was ironic, then, that in its early stages, Schulz looked forward to the Peel trial. He had expected it to be interesting. After all, he told me, any case that goes two years before an arrest is bound to present a number of intriguing legal issues. He told his law clerk as much, saying, "This is going to be an interesting trial, because this is not an open and shut case by any stretch of the imagination."
In that 1994 intervew, Schulz told me his law clerk, Cammy Oeschli, disagreed with his assessment. "Nah," she told him. "I think they got him dead to rights."
---
Excerpts from the unpublished original manuscript, "Sailor Take Warning," by Leland E. Hale. That manuscript, started in 1992 and based on court records from the Alaska State Archive, served as the basis for "What Happened in Craig."
Copyright Leland E. Hale (2020). All rights reserved.
---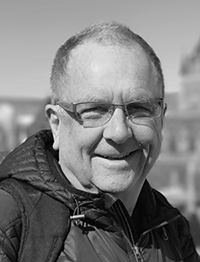 Order "What Happened In Craig," HERE and HERE. True crime from Epicenter Press.