When Larry Demmert arrived at D.A. Mary Anne Henry's office, he was everything they'd said he was and more. Hyper. Nervous. Distracted. When Henry asked for an explanation, Demmert said he was almost out of valium. Furthermore, he revealed, he didn't think he could make it through the week without more medicine.
The troopers offered to take him to the hospital. Or take him to a doctor, if he knew one. But Demmert didn't know any doctors in Ketchikan. Worse yet, it was getting late in the day. Finally, Mary Anne Henry called her own doctor, to see if he could examine Larry Demmert. The doctor agreed. Trooper Anderson took Demmert in tow and immediately drove him to the doctor's office. That was the last they saw of him that day [1].
The next time the police saw Larry Demmert was the following morning, a Wednesday. Demmert was standing near the elevator in the State Office Building, just down the hall from the D.A.'s office. Dawn Holmstrom called Detective McNeill over and told him that Demmert was "acting strange." She said, "he's packing a gun around town."
Catching Demmert in the hallway, the troopers hustled Demmert into Mary Anne Henry's office. Once there, Stogsdill didn't mince words. "I want that gun," he told Demmert.
"Well, okay," Demmert replied. He immediately handed over the weapon which, Stogsdill discovered, was a .357. Stogsdill immediately unloaded it, put the bullets in his pocket and placed the gun in Mary Anne Henry's desk drawer. She locked it after him.
Then they led the Libby 8 skipper to a conference room next to Henry's office. They wanted to find out what the hell was going on.
"Why are you carrying a gun?" Stogsdill asked after closing the door.
Demmert gave him a long, rambling explanation. He told them he was scared. He told them he was afraid to walk down the street without carrying a weapon. He said he had lots of relatives in Ketchikan and was known in the area. Somebody might recognize him. With a gun he felt safer. At least he could defend himself.
"Why are you scared?" Stogsdill asked him.
"Because I'm a star witness in this case," Demmert told him. "Me and Dawn are important witnesses in this case."
Demmert's response surprised the trooper. "Well, frankly, what you've had to say up to this point is important, Larry," Stogsdill told him. "But you know, if something were to happen to you this afternoon, the case would still go on without you."
Demmert seized his opportunity. He told the trooper he didn't want to testify. He was afraid to testify. And he did not want to be involved in this case. For one thing, he told them, he had never been involved in a case like this before. And, he added, the person he would have to testify against — John Peel — was a very close friend of his. He was afraid of retaliation. John Peel, he told him, had friends everywhere.
"Normal people don't want to testify against their friends," Stogsdill assured him. "But sometimes they have to."
---
[1] Henry's doctor ultimately gave Demmert a valium prescription. Defense attorneys would later accuse the prosecutor's office of acting like drug dealers for making the referral.
---
Excerpts from the unpublished original manuscript, "Sailor Take Warning," by Leland E. Hale. That manuscript, started in 1992 and based on court records from the Alaska State Archive, served as the basis for "What Happened in Craig."
Copyright Leland E. Hale (2019). All rights reserved.
---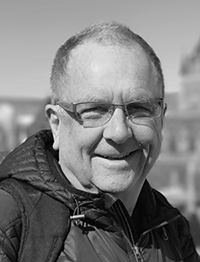 Order "What Happened In Craig," HERE and HERE. True crime from Epicenter Press about Alaska's Worst Unsolved Mass Murder.