The link between Jim Robinson and Barry Ewers seemed tantalyzing. It was Ewers, you may recall, who helped propagate a theory in which Canadian drug kingpins killed Mark Coulthurst. The allegation turned on claims Coulthurst ripped someone off during a cocaine deal. To up the ante, Ewers also insisted Coulthurst was using the Investor as a fish tender from which he traded cocaine for fish.
Allegations Made, Allegations Answered
Allegations like that had to be checked out. Investigators talked to two of the men bearing tales of a drug killing, then tracked down Barry Ewers in Seattle. From there, they went to Canada and talked to the three men identified as the hitmen. The Canadians all had alibis. Mary Anne Henry summed it up by saying, "They were flabbergasted. One of them had loaned Ewers $100 and never got it back."
At this point, it helps to remember that this was the same Barry Ewers who stiffed Jim Robinson for a boat battery and a starter. So, there's a theme of sorts emerging here. Barry Ewers was a man of who could not be trusted. Not in financial transactions. Or in much of anything, for that matter.
As evidence, Ewers was convicted in July 1982 of felony theft on a $28,000 embezzlement scheme. He was ordered to pay retribution to the victim and sentenced to four years in jail. Then, on July 26, 1982, Ewers moored his vessel at ANB Harbor in Sitka [1]. At 6:30 am, there were reports he had assaulted his wife on board that vessel. Witnesses clustered around, trying to help.
Ewers threatened them, waving either a .22 caliber pistol or a flare gun in their direction.
A jury ultimately convicted Ewers on three counts of assault. They were unable to reach a verdict on the fourth charge. That's because they could not decide whether Ewers used the pistol or the flare gun. Details matter.
We Have To Ask
But here's still one, inconvenient question: Did Ewers' path cross with the Investor in Sitka? After all, the Coulthurst's were there early in the season, tendering roe herring. The story of a different variety of tendering could well have attached itself to new, shiny object like the Investor.
That intersection has never been proven. We do know this: ANB harbor is one of five dock facilities in Sitka. And ANB is permanent moorage for vessels 50 feet and under. As a limit seiner, the Investor was 58 feet, too large for the ANB dock.
We also know that Ewers was in jail even as the Investor murders were occurring, 135 nautical miles south in Craig.
Going Nowhere But Down
Barry Ewers' offer of "assistance" in the Investor murders, moreover, came to nothing. In April 26, 1983, he was sentenced to three years in jail on the assault charges. He got another 60 days in jail for misdemeanor assault. Both sentences were to run concurrently with his embezzlement conviction.
And by 1985, a fuller impression of the man started to emerge. Like the fact that his given name was Robert D. Ewers. Like the fact that he had a second degree burglary conviction in Oregon. Like the fact that he had seven felony convictions. Like the fact that he continued to travel to Seattle, in violation of his probation.
One could never accuse the man of being a quick learner.
In 1990, he was convicted in a bench trial — before Judge Thomas Schulz, no less. The charge? Knowing possession of a concealable weapon by a felon.
In 2008, Alaska State Troopers served six more warrants on Ewers. The arrest warrants were issued after Ewers failed to appear on original charges of operating a vehicle with a suspended/revoked driver's license, Criminal Mischief in the fourth degree and Theft in the fourth degree. He was held without bail until he appeared in court.
Somehow, they didn't trust good ol' Barry Ewers. Nor should anyone.
---
[1] ANB is an acronym for Alaska Native Brotherhood. It was founded in 1912, developing out of the efforts of Tlingit communities fighting bans against Alaska Natives in restaurants and movie theaters. The dock, however, was developed by the State of Alaska.
---
Excerpts from the unpublished original manuscript, "Sailor Take Warning," by Leland E. Hale. That manuscript, started in 1992 and based on court records from the Alaska State Archive, served as the basis for "What Happened in Craig."
Additional Sources: "Sitka Man Convicted in Assault Case," Daily Sitka Sentinel, Staff, December 17, 1982; "DA's Report," Daily Sitka Sentinel, April 28, 1983; "In Court," Daily Sitka Sentinel, April 1, 1986; "Sitka Police," Daily Sitka Sentinel, July 18, 1988; Ewers v State, 909 P.2d 373 (1996), Robert D. EWERS, Appellant, v. STATE of Alaska, Appellee, "Crime Scene," Anchorage Daily News, April 3, 2008
Copyright Leland E. Hale (2020). All rights reserved.
---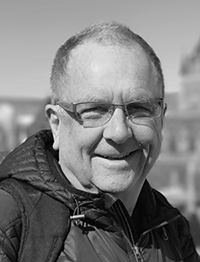 Order "What Happened In Craig," HERE and HERE. True crime from Epicenter Press.