Arguments in State v. Peel ended with a thud, not a bang. After a dispiriting attempt to grind Jim Robinson into the ground, Phillip Weidner unceremoniously rested his case. After eight months and more than two million dollars, closing arguments in Alaska's longest-running criminal trial were set to begin. The end was in sight.
The prosecution's closing argument centered on what they called the "survival steps" taken by John Peel in the hours and days after the murders. Prosecutor Pat Gullufsen suggested that Peel had to move the Investor to Ben's Cove after the killings, because his nervousness would have caused him to "stand out like a blinking light in the dark."
Curiously, he also suggested that Peel returned to burn the boat the following day because he had left a tin of marijuana on board. That tin, Gullufsen declared, "spelled" John Peel — and would have led authorities to him had it been found on the Investor.
---
It's true that the skiff operator was seen with a tin box. A more compelling theory, though, is that the killer had much more grave concerns. Scuttling the Investor was not about a tin of marijuana. It was to hide every single bit of evidence. He had tried to sink it and failed. Torching the vessel was the ultimate expression of that goal.
---
For his part, Phillip Weidner used the drug dealer defense to defend his client's lies to police. Peel neglected to tell police he sold marijuana to Dean Moon and Jerome Keown, the defense attorney said, because he was afraid of incriminating himself and his wife Cathy, who had sent it to him by mail. Had he known he would become a murder suspect, Weidner suggested, John Peel would have been more forthright. Weidner added that Peel lied about going out to see the burning Investor because he was in a Craig bar at the time, selling marijuana.
Weidner's most dramatic ploy, however, was when he produced a blown-up photograph of the jury instruction on reasonable doubt. Holding it inches from prosecutor Pat Gullufsen's face, he asked, "Would you rely on Larry Demmert if your life was at stake?"
Pat Gullufsen's rebuttal was stark and, for the usually unprepossessing barrister, emotionally laden. This was the end note. One they hoped would turn the jury irreversibly in their favor.
"Keep looking at Mr. Peel," he told the jury, "because the evidence puts blood on his hands. The blood of Irene, Mark, Kimberly, John, Chris, Jerome, Mike and Dean Moon." Gullufsen paused, then uttered his final sentence. "He's not going to reach the door with that blood on his hands."
The trial was, finally, at an end. Everything was now left up to 12 jurors.
---
Excerpts from the unpublished original manuscript, "Sailor Take Warning," by Leland E. Hale. That manuscript, started in 1992 and based on court records from the Alaska State Archive, served as the basis for "What Happened in Craig."
Copyright Leland E. Hale (2020). All rights reserved.
---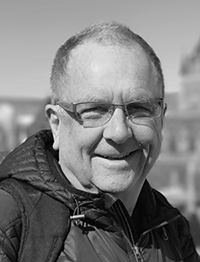 Order "What Happened In Craig," HERE and HERE. True crime from Epicenter Press.