Trooper Bob Anderson thought the Peel trial had lost its way. And he thought he knew why: neither the court nor the State knew how to handle Phillip Weidner's street-fighting defense tactics.
From Anderson's point of view, Judge Schulz lacked the kind of experience — and expertise — required to keep Peel's scrappy attorney under control. He thought the prosecution, on the other hand, was afraid they'd do something wrong, something that would let John Peel get off on appeal. Everyone in the system, it seemed to him, was being overly cautious. Trooper Anderson's frustration finally got to the point that he blew up at Mary Anne Henry.
"We're responding too much to Weidner's theories and accusations," he said, scolding her. "Every time he comes up with a new one, we send an investigator on a wild goose chase to check it out. Every time we do that," Anderson insisted, "we make it look like we're not confident in our case. What he need to do is get back and present our case. We shouldn't let all these theories, and things Weidner is doing to muddy the waters, cause us to overreact."
Trooper Takes Stand
On the witness stand, Anderson at least had a chance to take the focus off the legal folderol. He would tell the jurors that the first fire call came at 4:20 or 4:25 in the afternoon. He would tell them of the impossibilities he faced as he raced around Craig looking for fire equipment. He would take them to the Investor scene. He knew the sights. He knew the smells. The jurors would finally see the heinous crime through his eyes. They would understand its enormity. Trooper Anderson had touched the victims.
Yet as Anderson started to talk about the victims, something strange happened. He managed to talk about the first body, and tell the jury that he initially thought it was a deer carcass. He told them he found a second body only moments later. And then a third, the body of the Coulthurst's daughter, Kimberly. This was not something the trooper wanted to talk about, but Bob Anderson gritted his teeth and went on.
An Eerie Moment
As he was speaking, Anderson happened to look toward John Peel. John Peel looked straight back at him. And grinned. "A personal, eye-to-eye contact grin," was how the trooper described it. He couldn't believe what he was seeing. This man was on trial for his life and charged with multiple homicides. While Anderson was describing burnt babies, John Peel was grinning.
Although he always had a strong feeling that Peel was their man, now Anderson was convinced. But no one else in the courtroom had seen their exchange. Already, Phillip Weidner was on to other things.
---
Excerpts from the unpublished original manuscript, "Sailor Take Warning," by Leland E. Hale. That manuscript, started in 1992 and based on court records from the Alaska State Archive, served as the basis for "What Happened in Craig."
Copyright Leland E. Hale (2020). All rights reserved.
---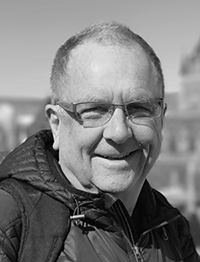 Order "What Happened In Craig," HERE and HERE. True crime from Epicenter Press.