Sue Domenowske-Page thought John Peel's hair was too light, but thought the shape of his eyebrows and eyes were similar. She was uncomfortable with his eye color, but testified that his mouth mannerisms, when he took a drink of water, reminded her of the skiff operator. As she began to describe similarities between Peel's mouth and the mouth of the skiff operator, however, she became upset. Judge Schulz called a recess and Domenowske-Page was led, grimacing and near tears, from the courtroom.
When she returned, Domenowske-Page was gently nudged back to the topic at hand. She said John Peel appeared to have a belly, while the skiffman did not, then added that, "I see a lot of similarity."
That's The Skiff Operator
Almost by impulse, Gullufsen showed her a color photograph of John Peel. He was fairly certain she had never seen it before. The picture, taken by one of Peel's friends during a past fishing season, showed him holding the tiller of a boat and staring into the camera. "I'd say that's a picture of the skiff operator," Sue Domenowske-Page said to the surprise of everyone in the courtroom.
"That's the skiff operator." She moved back noticeably in her chair as she made the revelation.
Peel's attorneys immediately requested that the photo not be shown to the jury, insisting that to show the witness only one photo was suggestive. "They got more identification on the picture than they did in court," Brant McGee argued, unsuccessfully. "They're trying to bolster their lack of an in-court I.D."
Really Struck Home
When McGee got his turn at Sue Domenowske-Page, he picked at her seeming willingness to change her ranking of a potential suspect during a December 1982 interview with Sergeant Chuck Miller in Seattle. The woman admitted that she "had a gut feeling against" Miller, whom she had taken a dislike to during a 1976 encounter in Fairbanks.
But she denied that Miller's "pushy" attitude — and her desire to "just get him to leave" her mother's Seattle home — led her to increase her rating of a photo from a "five" to a "seven." Miller didn't "talk me from a five to a seven," Domenowske-Page countered. "The picture really struck home at a gut level."
And now, in court, another photo seemed to have the same effect.
---
Excerpts from the unpublished original manuscript, "Sailor Take Warning," by Leland E. Hale. That manuscript, started in 1992 and based on court records from the Alaska State Archive, served as the basis for "What Happened in Craig."
Copyright Leland E. Hale (2020). All rights reserved.
---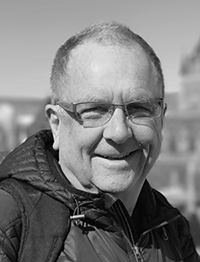 Order "What Happened In Craig," HERE and HERE. True crime from Epicenter Press.