When the Jim Robinson hearing ended, the former Craig Auto owner hurried to catch up with Mary Anne Henry. After seeing John Peel in court, he told her he was now positive John Peel was the man to whom he had sold gasoline on the day of the fire. That was a startling new identification.
"It's not tentative," Henry told reporters in announcing a development that she said strengthened the state's circumstantial case against Peel. "Mr. Robinson said he was positive."
This new "identification," coming as it did in the courtroom where John Peel was up on murder charges, had at least a couple of problems. That's because troopers had already talked to Robinson in the days after the Investor fire. There were discrepancies with the man's earlier statements.
At that time, Robinson told them that he recalled a "short and stocky man" buying gas in a jug on either Monday or Tuesday. Robinson also told troopers that he did not think much about it at the time, but noticed the man, who arrived and departed on foot and was wearing a baseball hat, was "very hyper and acted like he was very nervous, like possibly his car was parked in the middle of the street or something and he was having to get gas back to it in a hurry."
Was Robinson perhaps mistaken? Because, whatever else he was, John Peel was neither short nor stocky.
---
Brant McGee, on reviewing Robinson's sudden courtroom identification, agreed that the man had expressly identified Peel as the man who bought gas on the day of the Investor fire. But his co-counsel downplayed its signficance. "It doesn't surprise me, given the suggestive nature of any in­ court confrontation with a defendant," Weidner said. "It's a common phenomenon for witnesses to focus on the only person in the courtroom who is a suspect."
Judge Schulz had an altogether different reaction to the alleged new identification. He reacted angrily to Henry's press comments. He immediately issued a gag order against attorneys on both sides. He added he was considering sanctions as high as $250 per violation.
Schulz's primary concern, however, was ensuring that Jim Robinson's "positive identification" had not tainted the jury pool. If the publicity had significantly influenced their opinions, the judge said, he "might consider moving the case." That said, he added he would closely question prospective jurors about the effect of publicity — and if it appeared they had been influenced, he would also question seated jurors.
---
Excerpts from the unpublished original manuscript, "Sailor Take Warning," by Leland E. Hale. That manuscript, started in 1992 and based on court records from the Alaska State Archive, served as the basis for "What Happened in Craig."
Copyright Leland E. Hale (2020). All rights reserved.
---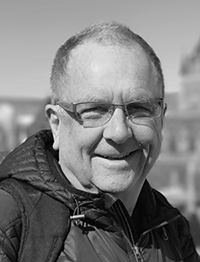 Order "What Happened In Craig," HERE and HERE. True crime from Epicenter Press.