When Sue Domenowske and Paul Page spoke to Sgt. Jim Stogsdill, it was the dead of winter, only a wood stove for heat in a house that was barely finished. There were two ways to get there. Off the Klawock-Hollis Hwy., there was a gravel road with a warning sign: Beware / High Tides. That's what troopers encountered during their first visit: high tides that blocked both them and the house on Hollis Anchorage.
When Stogsdill returned, he came by float plane. There was a long stretch of bay that was perfect for landing. And perfect for getting to the house without fear of being stranded.
On a recent visit to this isolated stretch of geography — my first — I was struck by several things. Hit over the head, actually. This spot is really off the grid, the sprinkling of fancy houses notwithstanding. It's the quintessence of Southeast Alaska.
The houses here are, with few exceptions, more like beach shacks. Structures are roughly etched into their domain, perched precariously above the waterline, irrationally dominated by gravitational pull.
The question at hand, of course, is why live here? Of all places, why here? The sea is inviting but the land is periodically blocked.
The easiest answer is that the land — this kind of land — is cheap. Few folks, even Alaskans, are clamoring to live in a place that is so subject to the whims of the tides. For Sue Domenowske, there was another reason. She was a special education teacher in Hollis and Klawock. Hollis Anchorage was close enough to be a practical arrangement. She and her soon-to-be husband, Paul Page, could build themselves a refuge. They could own a piece of the pie, Alaska-style. They could live the dream.
---
Copyright Leland E. Hale, all rights reserved (2019)
P.S. The road leading into Hollis Anchorage, while close to the highway, took us a few turns to locate. It's just not obvious. We knew we'd found it when we spotted the warning sign. A chat with a local resident confirmed our suspicions. At high tide, the road disappears.
---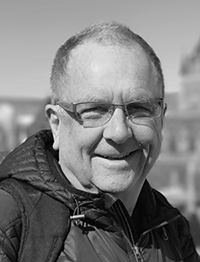 Order "What Happened In Craig," HERE and HERE. True crime from Epicenter Press about Alaska's Worst Unsolved Mass Murder.