For the three ladies of I.S.P.Y., the John Peel trial was an opportunity to show an interest in the criminal justice system. Carroll Mackie told a Bellingham reporter that her attendance, "makes judges think more about what they are doing." But Mackie was disappointed by the poor attendance. "I assumed we would have to get to court a half hour early to get a seat," she told Eric Thomas of the Bellingham Herald. "I don't think the interest is there, and I'm ashamed to say that."
"It easily could have been Ketchikan kids on that boat," Mackie added. In that spirit, Carroll Mackie had befriended Dean Moon's mother. Ruth Moon stayed at Mackie's house when she was in town.
Her fellow I.S.P.Y. member Marcia Hilley, was just as outspoken, with a storeroom full of impressions, opinions and judgments. Some of them she shared at the time, others she shared years later. The trial affected her on almost every level.
Emotional Rollercoaster
Emotionally, Hilley saw a number of people who deserved sympathy. She felt sorry for the families of the victims, because it seemed like their loved ones were on trial, not John Peel. She also found it hard to accept that they couldn't set foot in the courtroom until after they'd testified, even though she knew those were the rules.
Marcia Hilley also felt sympathy for the Peel family. She felt especially sorry for John Peel's father. She knew his health wasn't good. And the trial had turned into a struggle of the most mundane sort. During one break, for example, he turned to her and complained. "I can't hear a thing they're saying," he lamented.
Hilley suggested he sit near the speakers, so he could hear better. No, he replied. "I can't. I have to sit right up front 'cause it looks better."
The World's A Stage
The trial itself seemed like a show to Marcia Hilley, with the lawyers turned into actors on a stage. She didn't mean that as a flattering comparison. Some days, it seemed to her that the lawyers, "were the only ones that didn't take an oath." Perhaps, she reasoned, that explained why they felt no hesitation about lying.
Hilley's greatest hostility was reserved for Phillip Weidner. She thought he used every trick in the book and stooped to any depth to get his point across.
Marcia Hilley was also less than impressed with some of the witnesses. From what she could gather, most had been on drugs that summer. And none of them seemed to have very good "memory skills." But Hilley also noticed "there was a lot of fear among witnesses. There was a very brutal murder and they were very close to it." Her impression was that they were still afraid of the killer — whether it was John Peel or some other culprit — and that none of them wanted to be the next victim.
Bellingham Disease
One example stood out. After Dawn Holmstrom's fraught testimony, the I.S.P.Y. ladies couldn't help but notice that she kept changing what John Peel said about the murders. In the end, she seemed determined not to say anything. On their way home, the I.S.P.Y. ladies kept laughing at Holmtrom's constant refrain, "I don't remember, I don't remember, I don't remember."
Carroll Mackie called it the "Bellingham disease."
---
Excerpts from the unpublished original manuscript, "Sailor Take Warning," by Leland E. Hale. That manuscript, started in 1992 and based on court records from the Alaska State Archive, served as the basis for "What Happened in Craig."
Copyright Leland E. Hale (2020). All rights reserved.
---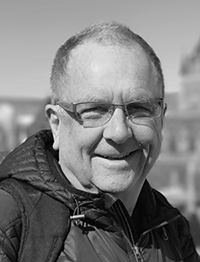 Order "What Happened In Craig," HERE and HERE. True crime from Epicenter Press.