John Peel didn't say another word until they got downtown. When he spoke, it was only to the booking officers who processed him into the Whatcom County Jail. Sergeant Stogsdill slipped further into the background, staying around only long enough to see the booking process begin. Then he went to see Cathy Peel and told her what was happening with her husband.
John Peel wore a brown knit ski mask, bulletproof vest and handcuffs when he appeared in Whatcom County Superior Court on the afternoon of his arrest. He tapped his foot and blinked his eyes nervously as the charges were read. His wife had ventured downtown to sit behind him, lending moral support. Peel didn't say much, answering, "Yes," when Whatcom County, Washington, Commissioner Frank Morrow asked him if he was John Kenneth Peel. And, "Yes," again when asked if he was the person named in the fugitive warrant.
Morrow ordered Peel held for 30 days in the Whatcom County Jail, pending disposition of the fugitive warrant. He set bail at $1 million, the same amount set by the Alaska judge when he issued the warrant. Peel's next appearance would be October 9, Morrow announced, unless the State of Alaska won his return prior to that date. And then the suspect was led back to the downtown jail.
---
Michael Tario — a recent law school graduate — agreed to take on his newest client pro bono. For his first court appearance, the young lawyer decided to obscure John Peel's identity. The news photographers managed to grab photos that John Peel would grow to hate.
"Identity is the only issue of this case as far as I'm concerned," Michael Tario said outside court. He was trying to explain why his client had worn the ski mask. "I don't want my client's right to a fair trial tainted," he added.
Some commentators, including this one, thought the decision to put John Peel in a ski mask a poor one. It made him look menacing. And, in the public mind, it was bank robbers and terrorists who wore masks. Not an innocent man.
---
Excerpts from the unpublished original manuscript, "Sailor Take Warning," by Leland E. Hale. That manuscript, started in 1992 and based on court records from the Alaska State Archive, served as the basis for "What Happened in Craig."
Copyright Leland E. Hale (2019). All rights reserved.
---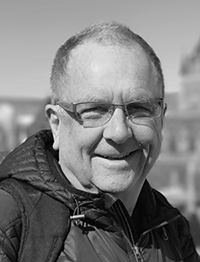 Order "What Happened In Craig," HERE and HERE. True crime from Epicenter Press about Alaska's Worst Unsolved Mass Murder.