From the day of their arrival in Bellingham to the day of John Peel's arrest, Alaska authorities played a multi-day game of cat-and-mouse. The game went like this: troopers tried to arrange a conversation with Peel. Peel avoided them, ditched them, told them he was too busy to talk. Finally, Sgt. Stogsdill and Mary Anne Henry decided they'd had enough. It was time to call in the arrest warrant.
John Peel had a job installing interiors for luxury yachts at the Chris-Craft boatyard in Fairhaven, a historic community just south of downtown Bellingham. It was there that the troopers, assisted by Det. Dave McNeill of the Bellingham Police Department, made their move to arrest him for the Investor murders. It was Monday, September 10, 1984 — two years and five days after the Craig homicides. And just two days after his son's one-year birthday.
---
John Peel described his arrest as "pretty frightening, it was pretty embarrassing." It was the beginning of the work day, when his co-workers were just starting to arrive. As Det. McNeill handcuffed Peel, Sgt. Stogsdill, who was tape recording the arrest, read him his Miranda Rights.
"Do you want to talk to me now or do you want to call a lawyer?" Stogsdill asked Peel just before they maneuvered him into the police cruiser.
"I want to talk to a lawyer," Peel said.
"Okay," Stogsdill said. "Well, it's finally over huh, John?"
"It's just starting," Peel replied.
"Well when you talk to your lawyer I want you to tell him a couple of things," Stogsdill said, his voice firm and commanding.
Sgt. Stogsdill: "When he [your lawyer] comes down to see you at the jail this morning, tell him six people have identified you as being on the skiff coming back from the Investor, buying gas at the gas station an hour before the fire. Tell him you had access to the murder weapon. Tell him you sold Dean Moon some dope just before you went on board the Investor and did whatever you did there. Tell him you told a guy in a bar not too long ago that – when you were a little bit drunk — how you should have known the boat would've sunk [sic]. Make sure you tell him all the statements you've made now so he knows exactly where you stand okay? You don't want to miss anything."
Peel repeated his assertion that he wanted to see his lawyer.
"You sort of knew this was coming the last time we were here, didn't you John?" Stogsdill asked.
"I wasn't surprised," Peel responded.
---
Excerpts from the unpublished original manuscript, "Sailor Take Warning," by Leland E. Hale. That manuscript, started in 1992 and based on court records from the Alaska State Archive, served as the basis for "What Happened in Craig."
Copyright Leland E. Hale (2019). All rights reserved.
---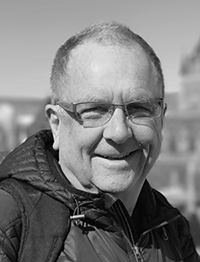 Order "What Happened In Craig," HERE and HERE. True crime from Epicenter Press about Alaska's Worst Unsolved Mass Murder.