When it came time to enter a plea, John Peel and his team had a different take on what's usually a routine matter. Peel refused to acknowledge the indictment. By so doing, he forced Judge Schulz to enter an innocent plea on his behalf. "Mr. Peel continues to assert his innocence as to all the charges, but I don't think it's appropriate to enter a plea at this time," Weidner told the judge from his Anchorage office. "I don't want there to be an indication that we recognize the validity of this indictment or the procedings by which it was obtained."
Weidner added that he believed some of the grand jury witnesses had requested immunity from prosecution for their testimony. He also referred to what he called "some very suspect activities" on the part of prosecutors at the grand jury. "It looks like there will be a very serious motion to dismiss this indictment," Weidner warned Schulz.
Nor was the defense limiting its fight to overturning the second indictment. After winning the right to examine the original tapes of Peel's police interviews, they won a motion to have the tape recorder that was used to record them examined by a defense expert, on allegations that the device had somehow been tampered with.
---
But the defense lost a bid to delay the trial for nine months — they said they needed more time to raise money and review the second indictment. They also lost a bid to delay the deadline for filing their motion to dismiss the indictment. The judge agreed to move the trial back one week, but refused to alter the filing deadline. He blamed both sides for causing delays.
In responding to the judge's refusal to delay the trial, however, the defense set the stage for another controversy. In an affidavit secretly filed with the court on November 17, 1985 — and made public by the judge less than a month later — the defense asked for permission to withdraw from the case, arguing that the January 13, 1986, trial date violated standards for effective counsel. Peel's attorneys felt they couldn't work toward such a deadline and hope to adequately defend their client. To some, this seemed like one plea too many. [1]
---
[1] By late 1985, the Investor case was already three years beyond the date of murders. Three years is a long time. Memories fade. Fears grow. Both favor the defense. And this seemed like another way to get what they'd been denied. And yet… This was a complex case. Effective counsel takes time. The judge had to split the difference.
---
Excerpts from the unpublished original manuscript, "Sailor Take Warning," by Leland E. Hale. That manuscript, started in 1992 and based on court records from the Alaska State Archive, served as the basis for "What Happened in Craig."
Copyright Leland E. Hale (2019). All rights reserved.
---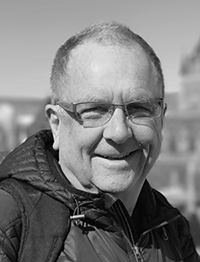 Order "What Happened In Craig," HERE and HERE. True crime from Epicenter