The cross-examination of Larry Demmert, Jr. had to finish by noon, March 30, 1988, Judge Carpeneti said. Or else. But the fireworks weren't going away. The fireworks never seemed to go away. And Judge Carpeneti's hair was beginning to show flecks of grey.
With Weidner finally done, and the prosecution on redirect, Bob Blasco repeated a question from the grand jury. He asked Larry Demmert "are you still having trouble accepting that you saw your crew member on the Investor that morning?" Phil Weidner immediately objected. Demmert had since expressed reservations. Had he really seen John Peel? From where Phil Weidner stood, Bob Blasco's question was a purposeful misstatement of the record.
"Defense counsel certainly doesn't want this answer out," Blasco snippily suggested in response.
Mistrial Demanded
Carpeneti overruled Weidner's objection. Weidner exploded. He demanded a mistrial for "intentional prosecutorial misconduct." Then he attacked Bob Blasco. "The gentleman seems to be having some trouble following the rules, but — and I use the word 'gentleman' advisedly — the fact is, Your Honor, that he made a calculated decision to prejudice Mr. Peel."
As he continued his tirade, Weidner touched on other prosecution outrages, real and imagined.
"They know that they got hurt bad with Mr. Demmert," Weidner said. "They know their big-gun witnesses haven't made it, and they're goading us into a mistrial. This is not some situation where they haven't had a chance. Now they've had another chance, and they got beat."
Mistrial Denied
Carpeneti listened patiently, then cautioned Blasco. He instructed the jury to disregard the comment as improper. The next day, he denied Weidner's latest motion for a mistrial.
The big question at this point was how much the jury was taking away from the testimony. The constant barrage of motions already had stretched the trial's length. Many were the days when Judge Carpeneti and his law clerk left the office at midnight after facing the latest ration of motions. Worse yet were the objections, which made it difficult for anyone to follow, particularly the jury. With every objection came the need for resolution. If the objection was sustained, it was re-worded, then asked again. The new question was just as likely to raise another objection — and escalate into animosity. Eventually, the objections became a distraction.
Judge Carpeneti's hair literally turned grey over the course of the trial.
---
Excerpts from the unpublished original manuscript, "Sailor Take Warning," by Leland E. Hale. That manuscript, started in 1992 and based on court records from the Alaska State Archive, served as the basis for "What Happened in Craig."
Copyright Leland E. Hale (2021). All rights reserved.
---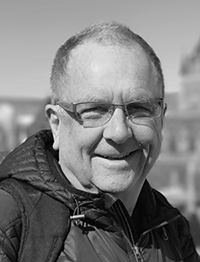 Order "What Happened In Craig," HERE and HERE. True crime from Epicenter Press.