After nearly two months of jury selection, however, it wasn't the occupations of prospective jurors or Josef Princiotta that halted progress toward seating a jury. Phillip Weidner had again discovered evidence of jury tampering. He immediately moved to strike the jury panel and dismiss the case with prejudice.
That latter part — dismiss with prejudice — was a near-constant refrain. Weidner used it again and again as he sought to bat away the charges once and for all. But another tampering allegation? Was this trial process that flawed?
The incident in question occurred during the fall of 1987, when Alaska State Trooper Tom Clemons talked to a friend about the first Peel trial. Weidner charged that Clemons expressed a prejudiced opinion. What Clemons essentially said was, "Mr. Peel should have been convicted and that, although the case was largely circumstantial evidence, that the evidence weighed heavily against Mr. Peel."
That Clemons held that view was not altogether surprising. Most, if not all, troopers agreed with his assessment.
The crucial piece of information for Carpeneti was when the conversation occurred. If Clemons was sitting among prospective jurors, that was a problem. If he had been loudly proclaiming it in the hallways — like a certain defense detective — that too would have been very troubling.
But that wasn't the case.
Carpeneti determined the incident occured after the prospective juror received a general summons for jury duty. And before he was assigned to the Peel case. Carpeneti denied the defense motion.
"The nature of the comment was that of an opinion, with no reference to supporting fact," Carpeneti's ruling noted. "The trooper was not involved in the investigation of this case, had no specialized information and claimed none."
"The prospective juror," he added, "has been excused for cause. No further corrective action is needed."
Indeed, that's how the system should work. Find bias during the jury selection process and eliminate it there and then. Can someone sneak through? Yes. It's an insidious risk. Just not this time.
---
Excerpts from the unpublished original manuscript, "Sailor Take Warning," by Leland E. Hale. That manuscript, started in 1992 and based on court records from the Alaska State Archive, served as the basis for "What Happened in Craig."
Copyright Leland E. Hale (2020). All rights reserved.
---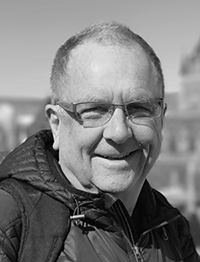 Order "What Happened In Craig," HERE and HERE. True crime from Epicenter Press.