With the jury seated, Judge Carpeneti faced a barrage of requests. As always, the agenda featured old allegations and even older suspects. Weider started out by announcing that John Peel, "wants to represent himself." It was a request made at the previous trial. And rejected. Although Carpeneti agreed to consider Peel's request, his ultimate judgment did not differ from that of his predecessor. John Peel would not address the jury during opening arguments.
On the eve of opening statements, the defense attorney filed another motion. This one asked to "cross examine police officers as to failure to adequately investigate other suspects." The police, he charged, had "failed to adequately investigate other leads and this demonstrates their motive for bias."
Allegations Resurface
Where Weidner was going with his allegations of bias, however, was down a road he'd already traveled. The people he mentioned — Ewers, Teal, Hunt, and unnamed persons in Canada — once more raised the specter of drug-related killings. But this time, he said, a jury should make the determination as to the weight of the statements made by these individuals.
In a footnote, Weidner added that "the prosecution has actually used Mr. Ewers as an infont working for Trooper John Glass in 'SEANET' drug enforcement operations and thus must be considered a reliable informant for purposes of this issue." He also added a loud headline announcing that, "IT IS SIGNIFICANT IN STATE V. PEEL THAT MR. DRAPER RESEMBLES THE COMPOSITE!!!"
After such a big headline, it seemed strange that Weidner made no further mention of Don Draper, who had allegedly cased the Investor in a plan to rob Mark Coulthurst. Instead, he went directly to the case law, which he argued at some length. Then, just as quickly, he went to his conclusions.
Even Judge Schulz, Weidner noted, had allowed him to question the police as to their failure to adequately investigate other suspects and to "argue to the jury that such failure constituted reasonable doubt." Since there were also statements to the effect that these "other suspects actually committed the offense," Weidner insisted that Judge Carpeneti "must allow the cross-examination of the officers as Judge Schulz did and, further, should allow extrinsic evidence of other suspects. To fail to do so," he concluded ominously," is reversible error."
Tenuous Suspects
Judge Carpeneti was not impressed. Whatever else he might have believed, the judge wasn't buying Weidner's list of other suspects. Of the seven witnesses Weidner wanted to ask about, Judge Carpeneti ruled that he could only ask about one. The evidence against the others was too tenuous, the judge said, sometimes amounting to nothing more than an anonymous tip.
The one person Weidner could ask about was a man named Gordon Scott. Scott was a Juneau resident who happened to resemble the Investor composite. Even then, Carpeneti ruled that Weidner was barred from suggesting that Scott "is presently to be regarded as a suspect."
---
Excerpts from the unpublished original manuscript, "Sailor Take Warning," by Leland E. Hale. That manuscript, started in 1992 and based on court records from the Alaska State Archive, served as the basis for "What Happened in Craig."
Copyright Leland E. Hale (2020). All rights reserved.
---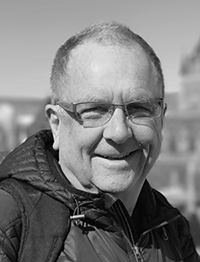 Order "What Happened In Craig," HERE and HERE. True crime from Epicenter Press.