After the coroner's ruling Trooper Anderson tracked down Bruce Anderson, the skipper of the Casino. The trooper was laying the groundwork for their next move. He found the Casino skipper on his fishing boat, in a small cove north of Sitka. After making the man go through a rough recitation of what he'd seen that day — it now seemed like no trooper interview could start without it — Anderson pulled out the pictures.
The first photograph Bruce Anderson picked was of John Peel. This was the same photo the witness in Craig had chosen. "Page seven," he said. "The top one is a picture that I would pick as someone that had the right shaped face and the right length hair and the right general appearance."
The next photo he picked, however, was of Eric Opperman, a Coulthurst relative whom troopers had already eliminated. Worse yet, he couldn't decide which one he liked better. Not that Trooper Anderson expected him to, this long afterwards. Still, with just two witnesses, Trooper Anderson seemingly had hit two jackpots. The circumstantial evidence was piling up against Mr. Peel. Their next move was seeming more and more likely.
Even at that, it took until the end of August before Stogsdill took a plane flight south. But he didn't fly to Seattle. He didn't fly to Bellingham. He flew to Ketchikan. He read through all the interviews again. This time the latest ones by Trooper Anderson were included in the mix. And this time Mary Anne Henry was with him.
Based on what they read, Stogsdill reached two conclusions. First, he decided he had enough against John Peel to obtain an arrest warrant for murder. Mary Anne Hemy concurred. Secondly, he reasoned that his best chance for a favorable disposition still rested with John Peel's confession. "I want to go back down to Bellingham and talk to him," he told Mary Anne Henry.
They would go to Bellingham, the prosecuting attorney agreed. But they would also have a back up plan, in case John Peel didn't confess. The prosecuting attorney's office would prepare an arrest warrant in advance, and could get it to a judge the minute they needed to put it into action.
By the time they arrived in Bellingham, it was September 5th. On a night two years ago to the day, eight people had been murdered in Craig. It was time to move.
---
Excerpts from the unpublished original manuscript, "Sailor Take Warning," by Leland E. Hale. That manuscript, started in 1992 and based on court records from the Alaska State Archive, served as the basis for "What Happened in Craig."
Copyright Leland E. Hale (2019). All rights reserved.
---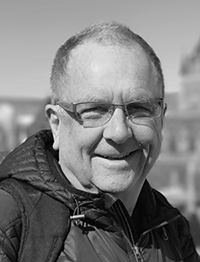 Order "What Happened In Craig," HERE and HERE. True crime from Epicenter Press about Alaska's Worst Unsolved Mass Murder.