A month after the Richard Olmstead disaster, Mary Anne Henry attempted a second run at John Peel. This time, she went to Judge Schulz and requested permission to recall witness Bruce Anderson. She was trying to pull another rabbit out of her hat.
It was worth a gamble: Anderson, and his wife, were the first to come across the suspicious skiff as it escaped the Investor fire. The Casino skipper knew the Coulthurst's. He was concerned. He wanted to speak to the skiff man.
It was Anderson who veered his boat into the skiff's path, forcing the driver to address them and talk about the fire that loomed on the near horizon. And it was Anderson who'd shuddered inside his vessel on the night when bodies were discovered, afraid the killer would now come after him and his wife
According to Henry, Anderson had approached authorities after his courtroom testimony and told them Peel "looked amazingly like" the Investor skiffman. No one had bothered to ask Anderson about Peel when he gave that testimony. Now, maybe, he could take a another run at it.
Schulz had Henry bring Anderson into the courtroom, with the jury absent — and Peel sitting at the defense table. He watched Anderson study Peel's form. And then he heard Anderson say that Peel's "facial and body characteristics are identical to what I saw that day."
But Schulz also heard him say, "I can't say for certain if it's him or not."
In ruling against Mary Anne Henry, Schulz reminded her that she'd made a "tactical decision" not to have Anderson identify Peel during his original appearance. That Anderson could now identify Peel, he added, "comes about under extremely suggestive circumstances." Anderson's identification of Peel, Schulz noted, came nowhere close to what he considered a "positive ID."
It was another run, all right. And another dead end.
---
Excerpts from the unpublished original manuscript, "Sailor Take Warning," by Leland E. Hale. That manuscript, started in 1992 and based on court records from the Alaska State Archive, served as the basis for "What Happened in Craig."
Copyright Leland E. Hale (2020). All rights reserved.
---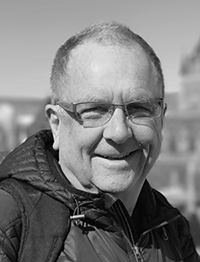 Order "What Happened In Craig," HERE and HERE. True crime from Epicenter Press.