The third "surprise" witness-to-be was Jim Robinson, the owner of Craig Auto. It was Robinson who was shooting the shit with Richard Olmstead when that harried gas-buyer came by with his Jerry jug. Robinson insisted he didn't think much of it at the time, although he did notice the man arrive and depart on foot. And saw that he wore a baseball cap.
What stuck out was the man's demeanor. He was, according to Robinson, "very hyper and acted like he was very nervous, like possibly his car was parked in the middle of the street or something and he was having to get gas back to it in a hurry."
Robinson had a slightly different take in February 1986, when he saw John Peel at a Ketchikan hearing. He quickly identified him as the man who'd bought gas from him on the day of the fire. Robinson now volunteered to proclaim it out loud, in court no less. Mary Anne Henry went before Judge Schulz with this newest revelation and got more than she bargained for.
Schulz responded by immediately imposing a gag order on all the attorneys in this case. Not just that, either. He warned that any violations could cause him to impose fines. And, in a move designed to prevent jury taint, he strongly considered sequestering the jury.
Pointing the Finger
With an OK from Judge Schulz, Henry led Robinson into the courtroom for another shot. "Now when you recognized the gas buyer at the time you were at this last hearing," Mary Anne Henry asked, "how sure were you of that?"
"Positive," Robinson replied.
"And do you see him in the courtroom today?" Henry asked.
"Yes, I do," he said.
"May the record reflect the identification of John Peel as the gas buyer," Henry triumphantly announced.
The judge had his doubts, but Mary Anne Henry wasn't finished with Jim Robinson. She asked him why he was sure Peel was the person who bought gas. "I remember a face," Robinson asserted. "I don't hardly forget a face when I see one."
Strange Revelations
To prove that point, Henry had Robinson relate an anecdote which, in the overall scheme of things, could only be termed bizarre. While at Craig Auto, Robinson related, a man had stiffed him for a boat battery and starter. After selling Craig Auto and moving to Ketchikan, Robinson saw the man again.
"And do you remember what his name was?"
"Yeah," Robinson said. "Bear."
"Do you know if he went by Barry Ewers?" Henry asked.
"Yeah," Robinson answered.
This was the same Barry Ewers who'd said the Investor murders were carried off by organized crime figures. The same Barry Ewers who'd spoken of the "Canadian Enforcers" and a cocaine deal gone bad. The same Barry Ewers that Phillip Weidner had mentioned prominently in his drug execution theory. Henry left the revelation as a punctuation mark on her examination of Robinson — and promptly turned him over to the defense.
Suddenly the court was faced with a third man who seemed destined to upset each side's clever calculations. A third man whose life seemed intertwined with at least one unsavory character.
---
Excerpts from the unpublished original manuscript, "Sailor Take Warning," by Leland E. Hale. That manuscript, started in 1992 and based on court records from the Alaska State Archive, served as the basis for "What Happened in Craig."
Copyright Leland E. Hale (2020). All rights reserved.
---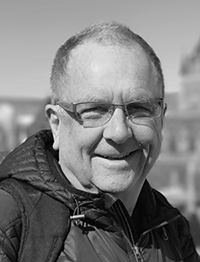 Order "What Happened In Craig," HERE and HERE. True crime from Epicenter Press.