Criminal trials depend on witnesses. Even DNA evidence, with its high degree of accuracy, requires an expert witness to walk the judge and/or jury through its significance. Indeed, there is nothing earth shattering about these assertions. Well, maybe there are some exceptions. One of those exceptions belongs to the halfway witnesses.
The "halfway witnesses" are the folks who might have seen or heard something that's pertinent to the case at hand. Often, that's because they "were there" when it happened (whatever "it" was). Their's is a tricky business. Either the prosecution or defense thinks they're essential. But they can be absolute duds. Or stars.
And, lest we forget, such is the case with What Happened in Craig.
Specifically, let's consider one of the "duds."
In the Investor murders there were several promising witnesses, people who "were there" when it happened. Consider a man named Richard Olmstead. A Craig-based owner of a charter fishing boat, he lived above the Craig Auto service station on Water Street, the main drag into town. It was there, while chatting with the station's owner, that a scruffy young man came to buy a jug of gasoline.
Investor On Fire
What stood out was the date of the incident. It was Wednesday, September 8, 1983. That was an unquestionably significant day. That was the day the Investor caught fire in Ben's Cove. Craig Auto was the only place in town that sold gas. And the Investor fire screamed gasoline. That's what brought Richard Olmstead into investigator's sights.
"We was just standing around there talking, and people coming in and out," Olmstead recalled, referring to Jim Robinson, the shop's owner. "And this fellow showed up with one of those little two-and-a half gallon Jerry Jugs… and he did a lot of explaining why he needed some gas."
The excessive explanations of the gas buyer seemed… suspicious.
After John Peel's arrest, investigators questioned Olmstead again. Shown a photo lineup, he chose two pictures of Peel. And one of someone else. His ID was a halfway ID. Troopers called it inconclusive.
Halfway to Paradise
By the time he got to the courtroom, however, his halfway had disappeared. Olmstead was absolutely certain Peel was the man he saw buying gas some four years previous. The judge wanted to hear from him — with the jury out. He needed to establish the man's credibility.
Olmstead told the judge that a recent incident had hurtled him toward a change of mind. He was dozing while watching television, he said, when a local news program aired about the upcoming trial. He said he saw a black and white still photo and suddenly recalled that day in September, when he was at Craig Auto.
"It dawned on me that this was the person I had seen buying gas at the service station," he said. "The person I seen there was the person I seen buying gas and I figured it was Mr. Peel."
The judge said he would try to get a copy of the photo Olmstead said he saw on television. And ultimately let him testify. Olmstead's testimony did not help. His initial "halfway" identification stuck to him like stink. Defense attorney Phillip Weidner made sure he squirmed. After all, he'd changed his story from "maybe" to "absolutely." Reasonable doubt was on the march in the courtroom.
And yet… Richard Olmstead had been there. As proof, the owner of Craig Auto, Jim Robinson, would also testify. He too had identified John Peel as the young man who bought gas in the hours before The Investor was torched. Well, sort of.
---
Copyright Leland E. Hale (2022). All rights reserved.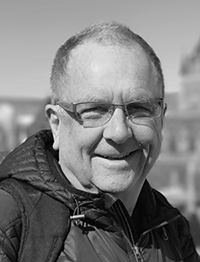 Order "What Happened In Craig," HERE and HERE. True crime from Epicenter Press.