Phil Weidner had nothing but praise for Dawn Holmstrom. "She's a very truthful witness," he proclaimed. "She's made every attempt to tell the truth."
Mary Anne Henry countered that she would end her questioning of Holmstrom about statements that implicated John Peel. "They used their good pages and we'll use our good pages," she said. She was right. With Dawn Holmstrom, all the pages came out however the reader wanted.
To strengthen her hand, Henry trotted in witnesses who could impeach Dawn Holmstrom. She had three of them waiting in the wings. The first one told the jury that Holmstrom was less than truthful, having told him "she'd been investigated by the cops, and she lied." Specifically, Holmstrom had "lied to them about the whereabouts of John." She told the witness she wasn't with John Peel during the time in question. She hadn't seen him for two days.
The next two rebuttal witnesses were less certain of what they knew. Larry Demmert's girlfriend told the jury that she and Dawn had seen either Peel or Brian Polinkus, in Craig, on the day of the fire. She seemed to think their fellow crewmate — whoever it was — was traveling in the opposite direction when they met.
Dawn's third friend admitted under questioning that he probably told Dawn Holmstrom that people had been shot. He had every reason to know that. His father was at the murder scene when the bodies were discovered. This testimony tended to support the defense contention John Peel had reasonably speculated that Mark Coulthurst "tweaked out and shot everybody."
The Former Crewmember
What the prosecution wanted the jury to hear, however, was Holmstrom's post fire statement that "a crewmember had been fired off the Investor and there was an argument between the Captain and the crewmember that got fired." The crewman she was speaking of happened to work on the Libby 8. The prosecution believed it to be John Peel. There were, after all, only four people working on that vessel and only one of them had worked for Mark Coulthurst.
When Blasco asked Holmstrom's friend if she had revealed who that person was, the man said she didn't. Did she mention a person not on the Libby 8 or Investor as a possible perpetrator? She hadn't, the witness replied. Did she say someone on the Libby 8 could be responsible for the murders? Dawn "never really did say who could be responsible for it." he said. Oddly enough, this vagueness helped mark his testimony as truthful.
Gave Up Her Plane Ticket
Hidden in his testimony, moreover, was an intriguing tidbit. Holmstrom, her friend confided, had gone hunting with him after the fishing season ended. They had taken a ferry to Prince Rupert, B.C., hunted along the way, and driven the rest of the way to the States on the Alaska Highway. In doing so, the young man said, Holmstrom gave up a plane ticket out of Craig.
Although he didn't know the date of her reservation, he said she reached her decision to give up the ticket either on the day of the fire, a Tuesday, or the next day, a Wednesday. John Peel had flown out of Craig at 4:30 on Wednesday, exactly one half hour after Miller and Stogsdill arrived from Anchorage. Phone records confirmed that he had called a Ketchikan travel agent the day of the fire.
Larry Demmert had described two days of hassle, when John Peel couldn't seem to get a plane ticket out of Craig. The floatplanes only carried six passengers and they were all booked up. John Peel got his ticket because somebody else gave theirs up on the Wednesday he flew out.
Perhaps, in a village the size of Craig, that was a coincidence.
---
Excerpts from the unpublished original manuscript, "Sailor Take Warning," by Leland E. Hale. That manuscript, started in 1992 and based on court records from the Alaska State Archive, served as the basis for "What Happened in Craig."
Copyright Leland E. Hale (2020). All rights reserved.
---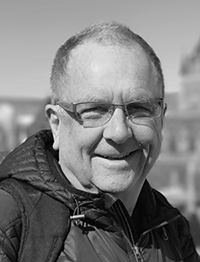 Order "What Happened In Craig," HERE and HERE. True crime from Epicenter Press.