Slightly remiss, here. A few years ago, I heard that key Investor mass murder witness Paul Page had died. It was, unfortunately, second hand news. So, I had to do more digging. Finally, in January of this year, I thought I was close. But still not certain. And then, out of the blue, I got a note from an old friend of Paul's from their days living in Ketchikan. He was wondering if Paul was alive. Thought he might still be on Prince of Wales Island. Wanted to put a friend in touch with him. Paul's friend finally confirmed that my research was correct.
"[He] was a real laid back, mellow friend."

Ketchikan friend speaking of Paul Page
When Paul Page moved to Prince of Wales Island, just across the straight from Ketchikan, he life took a fateful turn. Paul and his soon-to-be wife, Sue Domenowske, were in Craig, Alaska, on the day The Investor murders were discovered. They were at the Phillips Cold Storage dock, chasing down supplies for the house they were building on the other side of Prince of Wales Island, in Hollis. They were witnesses. Or, one might say, unwitting witnesses. Later to become reluctant witnesses. Happenstance can be a cruel master.
That's because at the Cold Storage dock Paul and Sue encountered a young man in a skiff, making a power landing that told Page the skipper was "an experienced skiffman." Out near Fish Egg Island, meanwhile, a fire raged. It was The Investor. People were scrambling to find fire extinguishers and get to the scene.
Paul Page, meanwhile, found himself talking to a young man investigators would soon think was a murderer.
Close Encounter
It was a twist of fate that would dramatically shift the course of his life. Paul would be second-guessed. Attacked by defense attorneys. Doubted. His "sin?" He could not categorically state that the accused — John Kenneth Peel — was the young man he'd seen on the dock.
One of the most persistent critiques came from courthouse witnesses who'd seen John Peel "up close and personal." One characteristic of Peel stood out: his piercing, ice-blue eyes. How could anyone — any credible witness — miss that?
Here's what Page said about his encounter with the skiffman. The young man, he said, "didn't look directly at me, mostly at the ground, and shuffled quite a bit." He "kept repeating that he was in a hurry." Not exactly an ideal witness-identification scenario. And, if you'd just killed eight people — and/or your eyes were a striking ice-blue — wouldn't you look away too?
"Of all the people to go under that wrongful attention."

Paul Page's Ketchikan friend
Finding Sue
After Paul's initial interview with Troopers, they also wanted to interview Sue. What they hadn't counted on was the location of their house. It was on a dirt road, just outside of Hollis. A road that flooded at high tide. Troopers ultimately used a floatplane to get there.
When Paul Page died, he was long divorced from Sue Domenowske. And a long way from Alaska. He passed away at the Grays Harbor Hospital in Aberdeen, Washington, December 15, 2017. He was just shy of his 70th birthday. Born in Richland, Washington, on August 13, 1948, his last known residence was in Hoquiam, just outside Aberdeen. Cause of death is unknown or, one might say, unconfirmed. I'm still searching.
---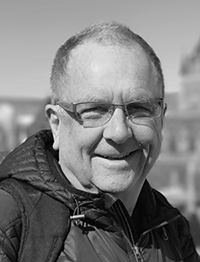 Order "What Happened In Craig," HERE and HERE. True crime from Epicenter Press.