For a man with an estimated IQ of 90, Robert Hansen consistently proved himself clever, if not intelligent. There was something persistently sneaky about the man. As if he'd spent a lifetime dissembling. It gave him a leg up when something went wrong.
His arson arrest back in Pocahontas, Iowa, was example par excellence.
Not only did Bob vehemently deny any wrong doing, he managed to convince his father and their fellow townsmen of his innocence. This against all evidence to the contrary, including a young man who ultimately came forward and told authorities about his role in the plot. He so humiliated his father that the old man sold the bakery and bought a Minnesota resort.
Now it was time for an Alaska State Jail correctional officer to offer explanations of his own.
---
MR. LUTHER DANCER, CORRECTIONAL OFFICER, ALASKA STATE JAIL
Interview: Mr. Dancer was interviewed at the Alaska State Jail at approximately 3:30 PM in regard to the evidence missing from the defendant's, Robert C. Hansen, wallet. While in custody he stated the following:
MR. DANCER: "On the evening of 12-26-71, Mr. R.C. Hansen was brought into the jail to be booked at approximately 7:30 PM. Mr. Leon T. Gordon [Jordan], a new officer, was working the desk. Prior to Mr. Hansen being booked, he was turned over to my custody for strip-search and change of clothing. When this was completed, he was brought back to the desk to go through the routine booking procedure.
"A short time later Mr. Hansen was given over to my custody again to be fingerprinted. After getting him over to be printed, Mr. Jordan advised me that I should "shake" him down again as he believed Mr. Hansen had taken something out of his wallet while Mr. Jordan was occupied.
"I searched the pockets of the coveralls Mr. Hansen was wearing and found a wadded up piece of white paper in his rear pocket. I asked him what it was and he replied that it was the name and address of the person who was going to raise bail for him the next day and that he needed it.
"I made note of the name and address, Mr. Thomas Roberts, XXXX "P" Street, Anchorage, Alaska, gave the white paper back to Mr. Hansen and gave the other slip to Mr. Jordan to put in Mr. Hansen's jacket."
---
It was, perhaps, an innocent mistake on the part of Mr. Dancer. One wonders… What happened to the explicit order that this little piece of paper was the subect of a search warrant? Maybe that piece of paper went missing, too. But there was no denying that something had gone profoundly wrong. Bob Hansen had pulled a fast one. Bob Hansen would destroy the original. All they had left was a weak facsimile. And that, as they say, was f'd up and wrong.
---
Copyright Leland E. Hale (2020). All rights reserved.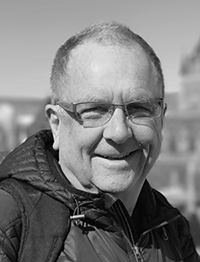 Purchase Butcher, Baker
Order my latest book, "What Happened In Craig," HERE and HERE, true crime on Epicenter Press about Alaska's Worst Unsolved Mass Murder.