Much has been written about Robert C. Hansen's seemingly inevitable slide into a grisly criminal career consumed by kidnapping, rape and murder. It's difficult to dismiss the sense that an evil destiny was at work. In all fairness, that seems to be how we like our serial killers. Men — usually men — filled with a primal need to control, manipulate and kill. But what if… what if an opportunity was missed? Not just missed, but badly missed?
One such missed "opportunity" came on August 11, 1978. That was the date when the Supreme Court of Alaska handed down a decision that overturned Hansen's five year sentence on a larceny in a building charge. The court agreed it was excessive.
Top Notch Representation
Mr. Hansen had a great attorney. That helped. His counsel worked for Edgar Paul Boyko & Associates, one of the most respected — and well-connected — law firms in Alaska. Boyko was himself a former Alaska State Attorney General.
The Supreme Court's decision ultimately turned on a fine-point in his sentencing — and, being the Supreme Court, the priority of his sentencing goals. Those goals, they said, were to be considered "in light of the nature of the crime, the defendant's character, and the need for protecting the public." Yet, while commending the sentencing judge for his "thoughtful and extensive evaluation," the Supreme Court blew right past the sentencing judge's concerns.
Danger Missed
The sentencing judge feared Hansen was dangerous during manic episodes (check). Thought he should be isolated from society (check). The sentencing judge could not, furthermore, overlook the fact that the larceny charge was Hansen's third felony conviction.
Mr. Hansen is a third time offender and, therefore, his sentence should be near the maximum range permitted for this crime since he is not a first offender and is not entitled to the consideration that first offenders are generally given.

Superior Court Judge James K. Singleton
Overlooked Evidence
The evidence that the Alaska Supreme Court mentioned, but ultimately chose to ignore, was substantial. Hansen was 37 years old at the time of the offense. Not exactly prime rehabilitation material. His previous felonies were not walks in the park. One was for arson in Iowa. The second was for assault with a dangerous weapon (in fact, an attempted kidnapping a gunpoint of an 18 year old real estate secretary [1]. They completely missed — or failed to mention or ignored — the kidnapping and rape of Patty Roberts. If there was a harbinger, Roberts was it.
Even in the instant case, Hansen admitted to an "episodic stealing problem," one that a psychiatrist described as "probably obsessive." Another pointer that rehab was not a fix it and forget it type of solution.
Miraculous Lithium
That said, the Supreme Court concluded that "the drug lithium has… become acceptable treatment of controlling manic episodes." They further posited that, with meaningful therapy and continued treatment, "Hansen [could] remain an active member of society."
Except that… The five year sentence placed Hansen in the Juneau correctional facility, which offered programs to "correct educational or training deficiencies." Hansen didn't need that. What Hansen needed was psychiatric assistance. That was only available at the Eagle River correctional facility. To get Eagle River, however, required a sentence of two years or less.
Bingo. Eagle River it was. This was mathematics at its worst.
Making Excuses
And, yes, there were rationalizations. All but one judge dismissed the larceny as a "relatively non-serious property offense." Gave him extra credit for his "solid family, employment and financial background" (thank you, Darla). And then, in a surfeit of misplaced wisdom, the High Court REVERSED and REMANDED Hansen's sentence to the Superior Court, demanding that it "place Hansen on probation as expeditiously as possible."
A swing and a miss. Of course, hindsight is 20/20. Unless it starts out blind.
---
[1] Some online accounts assert that Hansen's 1971 offense involved a housewife. It did not. Eighteen-year-old Susan Heppeard was, in fact, very much a single woman, who shared an apartment with two other young women.
---
Copyright Leland E. Hale (2022). All rights reserved.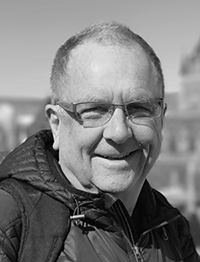 Purchase Butcher, Baker
Order my latest book, "What Happened In Craig," HERE and HERE. True crime from Epicenter Press about Alaska's Worst Unsolved Mass Murder.