Robert Hansen was infamous in his own, small world. His was the world of Alaska, its Bush and its glaciers, its plentiful game, its peripatetic workers. For many years the man was barely known outside that world. Until recently. Very recently. Over the past few years, his notoriety has grown. This evil man, known to me as "Butcher, Baker," has seen his legend reach escape velocity.
And now, on Tuesday, November 29th, he will once more be featured in a true crime documentary.
With Robert Hansen's reputation now spread far and wide, his latest appearance is in the UK. On the Sky Crime network. That's a big deal. In its "second life," Butcher, Baker has once more gone global. The life and legend of this evil man has circumnavigated mother earth.
Woodcut Media Comes Calling
The first glimmer of this particular Robert Hansen doc drifted into my consciousness in May, 2021. I missed the initial email while four-wheeling through southern Utah, in-and-out of wireless range. When I finally found it, I learned from an Assistant Producer that her production company wanted a Robert Hansen story. Wanted it for Season Six of their series on notorious killers. The premise was familiar.
"In the programme we look at the background of each crime, the chronology of the Police investigation and the subsequent trial and conviction."

Meea Atkin, Assistant Producer, Woodcut Media
Production company time, however, does not always align with "real time." By the time things really got rolling, almost a year had passed. There was a new assistant producer on-board. I had to do my Zoom audition all over again. And the filming had slipped to Season Seven. I thought about that. This series had been running for seven years. They likely know what they're doing.
Evil In the Time of COVID
By the time the Woodcut Media film crew was scheduled, I was sickeningly familiar with the protocols for filming during COVID. The masks, the sterilized hotel conference room. The good news was we could shoot at my home. The other news was that, budgets being what they are, there was only one crew person. He would handle camera as well as sound. It was a light footprint.
Nonetheless, my interviewer would be miles away, appearing in a small window on a laptop screen. It was a Zoom call, but not a Zoom close up. The cameraman needed distance and perspective. No matter. I knew to look at the laptop's shimmering screen.
And now I'm ready for my close up.
---
Copyright Leland E. Hale (2022). All rights reserved.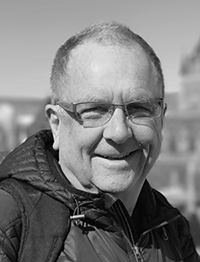 Purchase Butcher, Baker
Order "What Happened In Craig," HERE and HERE. True crime from Epicenter Press.