It was Alaska's preeminent psychiatrist, Dr. J. Ray Langdon, who examined Bob Hansen. According to his biography at the University of Alaska-Anchorage, it was Langdon who first established a psychiatric clinic in Alaska. It was the launching pad for many a psychiatric defense.
Incredibly, when the Langdon Clinic was established in 1960, patients with mental-health issues were sent to Morningside Hospital in Portland, Oregon. Not coincidentally, Langdon was the medical director at Morningside before moving his fortunes North.
---
Hansen didn't go before a judge again until March of 1972, fully three months after his promise to see a psychiatrist. It was here, in the courtroom of Judge Fitzgerald, that they evaluated Dr. Langdon's February 28, 1972, examinatio. Things started out somewhat precipitously.
L. Eugene Williams, the Anchorage Assistant D.A. admitted in open court that he hadn't examined the psychiatric report. There was a pause in the proceedings. Williams finally read the report.
The Court admitted Dr. Langdon's exam as Exhibit #1 and then Hansen's attorney, Jim Gilmore, told Fitzgerald he would stipulate that Hansen "is able to understand the charges against him and assist his own defense." He was, in other words, competent to stand trial.
Gilmore had more.
First up, he put the State on notice of a possible psychiatric defense. And then he had Hansen enter a plea of Not Guilty. Gilmore added that Hansen had also entered a Not Guilty plea in the Heppeard case, scheduled for trial on March 20th. The judge suggested that one trial follow the other. But Gilmore dithered. "I will not be prepared that early on the sanity defense," he admitted. "And both cases might be resolved prior to the 20th."
Robert Hansen's trial took place on March 24, 1972, before Judge Fitzgerald. The matter at hand was his attack on Susan Heppeard. The charge was Assault with a Dangerous Weapon. But the Patty Roberts case lingered in the shadows. They would also deal with that case.
Hansen's attorney went first. He announced they were changing their plea to guilty. That witnesses had been called and would be believed. It was suddenly time for sentencing.
Assistant D.A. Justin Ripley told the Court that they recommended an eight-year sentence on the ADW charge, with five years suspended. And that, in exchange for Hansen's guilty plea, they would dismiss the indictment in the "other case."
That Bob Hansen had kidnapped and raped Patty Roberts at gunpoint would become an asterisk. An afterthought. And, frankly, not all that surprising given the historical context. There seemed to be no way around Patty Roberts' occupation and heroin use. That said, there was an abiding recognition that Bob Hansen was dangerous.
"Given the problems demonstrated by the defendant," Ripley intoned, "close custody is required."
The question at hand was whether Hansen was eligible for a work-release. That, Judge Fitzgerald said, was up to the community. Hansen had community witnesses lined up to testify. They would testify on his behalf. It wasn't the first time. It wouldn't be the last.
---
Copyright Leland E. Hale (2020). All rights reserved.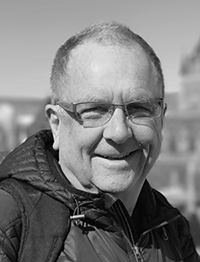 Purchase Butcher, Baker
Order my latest book, "What Happened In Craig," HERE and HERE, true crime on Epicenter Press about Alaska's Worst Unsolved Mass Murder.