In the early 90's, there were few daytime stars bigger than Sally Jessy Raphael. Her show always promised tears, out-of-control emotions and a big box of Kleenex. It was not, of course, "respectable" TV. Instead, Raphael trafficked in schlock, shock and outrage. It was, I suppose, a fitting first show for budding authors writing about serial killers. It was to be our first taste of fame.
That said, you've probably never heard of Jill Mullikin. She nevertheless has a storied resume and her own share of fame. In 1991, she was the Sally show's producer. Every show has one. They're among the many folks who book the talent and formulate the daily topics. And the producer is the person who controls — or propels — the circus.
I've alluded to this experience before, in my tribute to the late, great Walter J. Gilmour. But I only told half the story.
Boosting Sales
Our publishers rightly believed that appearing on the Sally Jessy Raphael show would provide a huge boost to book sales. They were hoping for five minutes of fame. This would bring a national audience to what true-crime editors see as a regional market. As in, the only people who really care about sensational murders are — wait for this — the local folks who are already familiar with the crime.
While Walter was reluctant to join the circus, I was game. At first, it only required that I provide contact names for potential guests. Not surprisingly, they were all to be the mothers, fathers and sisters of Robert Hansen's victims. But Sally's bookers thought all they had to do was say, "we're from the Sally Jessy Raphael show." Those magic words were supposed to inspire folks to jump into their arms. It wasn't working. That was the first job I had to take over.
Soon, I had two confirmed families — and three guests — signed up. That was okay until it wasn't. They wanted one more. Fine. Got it. Three families and four guests.
Woman in a Fur Coat
In New York, we stayed at the Plaza Hotel. A limo would take us to the studio. I had a secret weapon. My then-girlfriend's mother — a Coty-award winning fashion maven — showed up in a plush fur coat. She was gorgeous. Walter was smitten. I had something else in mind. Rhoda would sit in the front row at the studio, providing moral support. Her late husband had been an actor. She knew the role. I am forever grateful.
In the green room, there were the pro forma brush-offs. We weren't the heroes of this show. We were the villains. As we waited in the wings, there were the first signs of trouble. One of the stage managers audibly gasped at the first guest. Then he whispered, "There's no emotion. She's showing no emotion. It's a disaster."
Sally Gets the Kleenex
The next guests — the sister and mother of victim Angela Feddern — were more to the show's liking. Sally got to hand Angie's mother several Kleenex. Her sister alternated between righteous indignation and sorrow. Later, Angie's sister told me someone on Sally's staff had prodded her as she walked toward the stage. "This is your chance to get back at the cops. Let 'em have it."
On a break, Jill Mullikin took center stage and gave us the what for. "It's boring," she declared, "when the onstage guests are polite and wait their turn to talk." When we got back to taping, she wanted us to start interrupting each other. She'd raise her hands as a signal. She demonstrated the move, both arms shooting straight up over her head. It was, I suppose, the fame move.
The Angry Stepfather
The next guest was Tamara Pederson's stepfather. He was one pissed off dude. I felt for him. Had Robert Hansen been caught earlier, he seethed, Tammy would still be alive. He was right. Tamara's body wasn't found until 1984. Hansen had presumably been at it since the early 70's.
But in the free-for-all that was now ascendent, one audience member had the temerity to ask a probing question. "Don't you think your daughter put herself at risk with her choice of profession?" The stepfather's face contorted into an angry red ball.
Despite these emotional and heartbreaking moments, the show never really overcame its awkward, and decidedly flat, start. Jill Mullikin could raise her arms till hell froze over. It wouldn't help. Walter wasn't going to start yelling and screaming. And I have too much Seattle Scandinavian in me to start tussling with folks who've lost a loved one to a crazed serial killer.
The show never aired. There was no fame awaiting us at JFK. The disaster became one of those "what if" moments.
---
Copyright Leland E. Hale (2021). All rights reserved.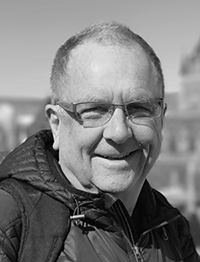 Purchase Butcher, Baker
Order my latest book, "What Happened In Craig," HERE and HERE. True crime from Epicenter Press about Alaska's Worst Unsolved Mass Murder.