First Blood is a new A&E series about serial killers. In ten episodes, it covers everyone from Richard Ramirez (The Night Stalker) and Ed Kemper (The Co-Ed Killer) to Robert Hansen (The Butcher Baker) and Aileen Wuornos (Damsel of Death). You can catch my mug on the Robert Hansen segment.
ROBERT HANSEN airs on A&E, Saturday, July 2, 2022 at 9/8c ET (6 pm Pacific).
Pivotal Moments
FROM A&E: "First Blood" examines some of America's most notorious serial killers through the prism of their first known kills to reveal what drove them to the moment when violent fantasy and curiosity became a devastating reality.
"First Blood" dives into the exact moment these criminals made their first move, analyzes their motivations, and explores the critical moments in their lives that brought them down these gruesome paths.

A&E First Blood
"With access to exclusive and never-before-seen interviews, insights from law enforcement and leading experts in profiling, criminology, and psychology, conversations with survivors, new archive and more, viewers hear first-hand how the actions of these cold-blooded killers unfolded, leaving behind hundreds of innocent victims and their grieving families."
Leland's Notes
As is normal with these things, my segment was filmed six months ago. September 20, 2021. Seattle's Queen Anne neighborhood. It was a "hot" day. I was really early. As in hours early. And wearing my usual TV regalia — grey Alpaca sweater over blue dress shirt. You know… the one shown below. At this point, there's probably about 24 hours of raw video out there somewhere. With me looking exactly the same in every shot.
And the reality is, I took that sweater off. Put it back on. Took it off again. Because the heat. Gave in and wore it for the shoot. Plus, it was a COVID protocol shoot. Everyone in masks (except me). The producer coming in over Zoom on a laptop. I'm sorry, but that's a rough one. I'm nearsighted, too vain to wear my glasses. The producer on a laptop screen is a… small target. It's like talking to a keyhole.
A Tribute
The good news is… I was on familiar turf, in my home town. And I was reminded of my late, great friend, Nancy McGraw. Here's to you, McGraw!
---
Copyright Leland E. Hale (2022). All rights reserved.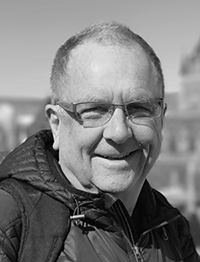 Purchase Butcher, Baker
Order my latest book, "What Happened In Craig," HERE and HERE. True crime from Epicenter Press about Alaska's Worst Unsolved Mass Murder.