Even while cops were closing in on the their suspects, thought to be some local youths, it happened again. Another attack. There would be, it turned out, multiple arrests. In the latest incident — only three days after the murders — a Checker Cab driver picked up a fare at Anchorage International Airport. After agreeing to take the 20-year old to the Rogers Park area, the driver became suspicous, She thought the man intended to rape her. As she reached for her microphone, the fare pulled a knife and slashed her hand.
She was lucky. Her assailant fled the taxi and ran away. The woman called the cops. They brought a police dog, who tracked the suspect through the snow to a nearby apartment.
The cops charged the man with mayhem and assault. Prosecutors set his bond at $10,000. The cabbies in Anchorage, meanwhile, started using a radio code to signal trouble. And arming themselves with handguns to defend themselves. The cops, for their part, we keeping close tabs on the taxis. To some, it seemed like a contagion.
"Everyone is scared."

Cimone Chabernaud, president and manager of Checker Cab Co.
---
More Arrests
Troopers made another arrest that very same day. In fact, within two days, they had arrested two youths. Their first was on the evening of Wednesday, December 5. It was a 17-year-old boy, recently released from the Alaska Psychiatric Institute. In the course of the arrests, moreover, police recovered a heavy-calibre handgun.
Cops arrested his female companion the next day. They withheld news of the boy's arrest until she was in custody.
Authorities charged both youths with first degree murder. And prosecutors were already considering whether to charge the pair as adults. Their criminal and psychiatric records would figure prominently in that decision.
Dropped Charges
Hours later, troopers arrested a third man, 25-year-old Michael L. Rutherford of Fairbanks. They got him at his apartment and, interestingly enough, charged him only for the first murder. Bail was set at $75,000.
A judge ultimately dropped charges against Rutherford, however. Police, in their zeal, had failed to get a warrant for his arrest. The only reliable evidence prosecutors had was his confession. Poof. It was gone.
Adjudicated
Juvenile authorities found one of the youths, sixteen-year-old Marlene Pash, to be delinquent. She soon admitted her part in the killings. She was sentenced to two years at the McLaughlin Youth Center for her part in the murders. Seventeen-year-old John Rice, like Pash, also confessed to the murders. He admitted flagging down Mulligan's cab, in an act that set off a cascade of violence.
Rice further admitted forcing Mulligan out of the taxi and, together with Ms. Pash, shooting him multiple times. He also admitted to flagging down Barbara Verna, this time assisted by Ms. Pash. He was the one who shot Verna in the head after forcing her to kneel at the roadside. All of this for only a few dollars. One had to wonder what had brought him here; it was, to this writer, a Mitch Schapira moment.
At his request, Rice was sentenced to life in prison, with a possibility of parole after 15 years in custody. It was a plea-bargain, in exchange for pleading no contest and making a full confession. Otherwise, he faced two consecutive life sentences for the murders and addtional time for the robberies.
Not An Adult?
But John Rice disputed the ruling that he be tried as an adult. The Alaska Supreme Court found otherwise. His long criminal record told the tale.
Rice was first arrested at age 11 — for joyriding. Less than two years later he held up a Palmer, AK. nurse at gunpoint. He was placed at a series of Youth Camps. He ran away from each. Transferred to a third facility, he was released to the custody of his father after he probation officer said he had been at the facility "long enough." That same officer admitted he did not believe Rice had successfully completed the program. It was a bureaucratic shrug.
Shortly after his release, Rice broke into the Visitor Information Center in Palmer. He was in and out of Youth Centers after that — when he wasn't running away from foster parents. At the time of his arrest, Rice was in a work program at Elmendorf Air Force Base, only miles from where he killed John Mulligan and left his body to rot on the side of the road.
With these two in jail, there was finally peace among Anchorage taxi drivers. For a while.
Sources: Anchorage Daily News (George Bryson, Bill Wilson); Anchorage Daily Times (Maureen Hewett, Patti Epler)
---
Copyright Leland E. Hale (2022). All rights reserved.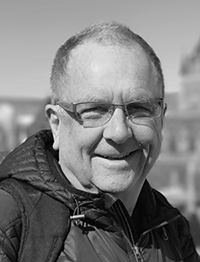 Order "What Happened In Craig," HERE and HERE. True crime from Epicenter Press.