Thomas Faccio, Jr. was the black sheep of the family. The adopted son of a Faccio relative, the 31-year old kept inventing ways to get in trouble with the law. Since 1981, he'd bagged convictions for drunken driving, assault and battery and malicious destruction of property. It was a bad look for a prominent businessman like his father, the owner of two major plumbing and heating businesses in Anchorage. It had, in fact, made the junior Faccio persona non grata in the household, although he still lived in a small cabin nearby.
Gruesome Discovery
At 7:30 a.m. Tuesday, April 24, 1985, the younger Faccio went to his parent's home. He'd tried calling first, he said, but got no answer. He knew his father wasn't here. Tom Sr. was headed for a three-day pleasure cruise on the Kenai Peninsula. Moments after entering, however, neighbors heard the son's piercing screams. "No, no, no," he cried.
"[Tom Faccio, Jr.] went wild, tearing around the place, He kicked out a glass storm door."

Lt. Jim Jansen, Anchorage Police supervisor
Finally gathering his wits, Tom Faccio, Jr. called his girlfriend. She convinced him to call police.
Three Dead
Police found Thomas Faccio and his sister-in-law, Emilia Elliott, bound on the living room floor. Their wrists restrained with neckties, pillows placed under their heads. Both shot through the head. Ann Faccio, Tom's wife, was in an upstairs bedroom, lying on the floor near one of the room's two beds. Shot at close range through the head. A bedroom telephone pulled out of the wall.
The home alarm system had not been triggered. There was no sign of forced entry. No sign of struggle within the house. No indication the premises had been ransacked. No empty shell casings lying around. No sign that anything had been stolen — in fact, a substantial amount of cash was found, untouched.
Their Son Questioned
A pathologist report indicated they'd been dead since at least the previous evening, a Monday. The fact that the victims were found in separate rooms within the spacious house suggested there may have been more than one perpetrator.
Police could not ignore reports about Thomas Faccio, Jr.
They heard rumors of threats allegedly made by the son to his parents. Heard reports of his temper. As his sister Janice Lienhart reported, in reconstructing that fateful Monday, "Mom gave [Tom] some chicken and shuffled him out of the house before Dad got home. I guess it's no secret; they didn't get along."
Police asked Tom, Jr. to take a polygraph. He took two. Passed both. Police eliminated him as a suspect. Their most promising lead? Gone.
---
Copyright Leland E. Hale (2022). All rights reserved.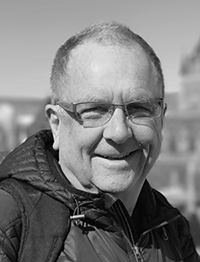 Purchase Butcher, Baker
Order my latest book, "What Happened In Craig," HERE and HERE. True crime from Epicenter Press about Alaska's Worst Unsolved Mass Murder.