Plain on the outside but luxurious on the inside. That was the Faccio house. It featured an indoor waterfall next to a sweeping staircase. A fully equipped gym. A Jacuzzi that held ten people. A "weather room" where, at the push of a button, it was sunny enough to get a tan or misty enough to resemble a gentle rainfall. The conundrum was how anyone but an insider would know any of this. Because if this was a robbery, those were the facts a perpetrator needed to know. Lacking even these basic insights, the investigation was stalled.
Remained stalled, in fact, through the first fortnight. "We're checking backgrounds and information from everybody related to the case," said Anchorage Police Commander Capt. Del Smith. "When you're 10 days down the road for a homicide of this magnitude, you start looking at everything."
Inconclusive Evidence
The fingerprints recovered at the scene had turned up blank. The only ones they found were those of family members. Even a $10,000 reward came to a dead end. Crimestoppers alone tallied 30 tips. Homicide detectives separately logged at least that many. Nothing. One promising avenue — a series of robberies and assaults targeting elderly Kenai Peninsula residents — just didn't have enough in common with the Faccio case. At the close of the first week, investigators were no closer to identifying a suspect or suspects.
The 500 mourners attending the Faccio's joint memorial service were disappointed at the lack of closure. Soon, the Faccio reward fund jumped to $50,000. Even that, investigators conceded, was little help.
"I thought the $50,000 reward would bring somebody out. It didn't. Ideally, homicides should be solved in the first 72 hours. After that, they are real tough."

APD Captain Del Smith
Stalled By Too Few Clues
Part of the reason the investigation was stalled was the remote location of the Faccio house. In that sparsely populated neighborhood, nobody saw or heard anything the night of the murders. The silence was only broken the next day, when Tom Jr. screamed out in horror.
Another problem was establishing a motive. Tom Faccio, Sr. was found with several hundred dollars in his pants pocket. The would-be robbers — if that's what they were — also left behind several firearms, jewelry, ivory carvings, china and other valuables. The wealth emanating from Tom's business was in plain sight, but untouched.
There were other reasons they were stalled. Investigators didn't find two sets of footprints, even though they suspected there were at least two perpetrators. And at least two possible suspects had been dismissed. One allegedly bragged he'd been approached to do a burglary just days before the killings. He told police that wasn't true. Another claimed to have been in the house when the Faccio's were killed. Under police questioning, it was apparent he couldn't command the necessary details.
A Police Reenactment
Frustrated APD investigators decided to assume the roles of the victims and suspected attackers. They went back to the Faccio home. And reenacted the events of that fateful Monday evening. That was one way to break out of their stalled investigation.
What they knew was that Tom Faccio was at the big dining room table, eating salad, soup and chicken. He had barely touched his cup of coffee. In the living room, his sister-in-law Emilia Elliott was watching KTUU TV news. She was filling out a logbook that listed daily sunlight and temperature data — one she had kept for years. Ann Faccio, the Faccio's daughter told them, was probably watching the news alongside her sister.
Although they usually kept the doors locked, someone managed to convince them to open their front door. Maybe someone they knew had come to the door. Maybe it was a woman claiming to need help. A second person could have been waiting, just out of sight, ready to pounce when someone answered the knock.
The next move was to gather all three victims in the living room. At some point, Ann Faccio was seated on the couch. Police knew that because her wedding ring was later found, dropped between the edge of the couch and a china hutch. She was, they surmised, making sure the robbers didn't get that precious memento.
As events unfolded, the assailants grabbed two of Tom Faccio's neckties from a dresser drawer and bound the man's wrists behind his back. He was a burly, strong man despite his age. Perhaps they felt the need to immobilize him. Emilia's wrists were also wrapped, although not as tightly.
When Ann Faccio bolted, scurrying upstairs to evade the captors, at least one of the captors followed her. Shot her at close range through the head. A telephone, pulled from the wall, was found in the hallway. Sometime during that sequence, Tom Faccio managed to slip his hands free. That's when one of the assailants shot him. The still-knotted tie was found near his body.
Based on the police reenactment, the entire attack probably took no more than 45 minutes. All three were shot with a small-caliber weapon, though police also found what they thought to be large caliber bullet hole in a plexiglas kitchen window. It was not, police learned, from one of Tom Faccio's weapons.
The intruders had come well-prepared.
---
Copyright Leland E. Hale (2022). All rights reserved.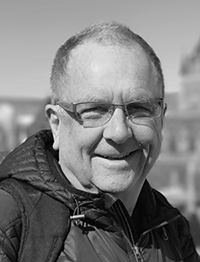 Purchase Butcher, Baker
Order my latest book, "What Happened In Craig," HERE and HERE. True crime from Epicenter Press about Alaska's Worst Unsolved Mass Murder.