The owner of the Sunrise Inn wasn't the only one who'd interacted with Bob Hansen. His daughter, Marti, also encountered him. She was there to check him in. He didn't use his real name, of course. He called himself Roy. So… if you're trying to keep score… to Patty he was "Tom." And to Marti he was "Roy." One imagines he wasn't planning on any crosstalk between the two women.
---
First Name, Last Name
Sgt. Hughes: "Going back to December the 19th, did you rent any of your cabins that day to the best of your recollection?"
Marti: "Yes."
Sgt. Hughes: "Do you recall which one it was that you rented?"
Marti: "Number 4."
Sgt. Hughes: "And do you recall the person renting this cabin?"
Marti: "Yes. He registered under the first name Roy, I don't remember the last name right now."
Sgt. Hughes: "Okay Marti, can you describe this individual?"
Marti: "He was, oh, I would say probably in his late 20's, and he was 5'10" – 5'11'. Quite slender, about 150 – 155 lbs. Very unkempt looking. He had on a 3/4 length jacket, a light color, and a pair of trousers, possibly with boots. I don't remember. He might have had on a hat, and light brown hair, no glasses. He wasn't carrying anything. His face was very pale. Yes, I noticed he had maybe a bad case of acne at one time."
Sgt. Hughes: "What did this individual say to you when he first came in?"
Marti: "He asked if we had rooms to rent, or that he needed a room… I can't remember exactly."
As Far Away As Possible
Sgt. Hughes: "Would you continue as to what conversation you had with him at this point on?"
Marti: "I told him that we did have rooms, and I asked him if it was for one person or more, and he told me it was for two people. He might have said it was for he and his wife, I'm not sure. And he said that they just wanted the one bed. I told him the price, and he told me he wanted a room as far away from the office as possible because they were only going to sleep a few hours, then they were going to be on their way, and the wanted it quiet.
"I commented that he looked very tired, and he said they'd driven all the way from Fairbanks and had to make it to Homer. He thought he could make it all the way, but now he needed a rest for just a couple hours and to clean up."
Sgt. Hughes: "Did you notice anything particularly unusual about this individual?"
Small Talk
Marti: "He was very, very unkempt in my opinion. And he was kind of nervous. He didn't want to make conversation like most people do. I tried to talk to him and he answered my questions well enough, but then he just dropped it there. He didn't go any further. He didn't want to look directly at me."
Sgt. Hughes: "At the time the registration card was filled out, who filled that card out? Did you do it or did this subject?"
Marti: "He did it. He [had] two portions on the card and he started to fill out the wrong portion and I had him finish filling out the correct portion, but he did it."
Sgt. Hughes: "Marti, do you normally have guests check into the Motel units in the middle of the day or in the morning hours, particularly this time of the year?"
Marti: "Very, very seldom do they come in early. Usually in the afternoon."
---
Marti does not mention Hansen's stutter; then again he was barely speaking. He knew what he wanted. He wanted to be as far away from prying eyes as possible. Even the sleep excuse was designed to keep them away. As for his aliases, Roy was probably more original than Tom. But Roy or Tom, it all came down to two things. He was so nervous he couldn't fill out the registration card without guidance. And he used his own handwriting.
---
Copyright Leland E. Hale (2020). All rights reserved.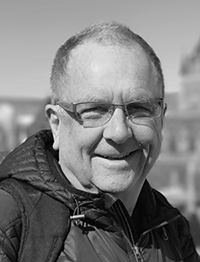 Purchase Butcher, Baker
Order my latest book, "What Happened In Craig," HERE and HERE, true crime on Epicenter Press about Alaska's Worst Unsolved Mass Murder.