Sgt. D.W. Hughes' interview of the Sunrise Inn owner added a layer of detail that his narrative lacked. It was the same story, of course. But conversational rather than bureaucratic. Well, sort of conversational. Try as hard as he could, there was something "nothing but the facts, m'am" about Sgt. Hughes. You can hear it in his questions. Formal. Directed. Totally cop-like. Going after the intimate details with no pretense.
STATEMENT OF: Robert G., Sunrise Inn, Moose Pass, Alaska, Occ. Owner-Operator
Sgt. Hughes: Going back to that date on December the 19th, let's say around 9:00 or 9:30, do you recall what you were doing about that time?
Robert G.: I had been cleaning rooms and I was either in one of the rooms or in the office getting additional linen for the room.
Sgt. Hughes: At this time, had you been instructed or told about someone registering?
Robert G.: At that time, my son-in-law came to me and told me to make no noise at the far end of the Motel, as they had just rented a room to a couple from Fairbanks, I believe he said, and that they were tired and wanted to get some sleep and would only be here a few hours.
Sgt. Hughes: Did you ever have an occasion to see these people prior to the time they went into their Motel unit?
Robert G.: I had no occasion to see either of them.
Sgt. Hughes: Did you later see them?
Robert G.: I saw them both at their departure.
Sgt. Hughes: Approximately what time was this, would you say?
Robert G.: I'm not going to guess, roughly 11:00 to 11:30, I would say they were only in the room approximately two hours.
---
Robert C. Hansen's first sexual experience was in New York City, with a prostitute, when he was in the Army. He later descsribed it as a "wham, bam, thank you m'am" encounter. It left him deeply dissatisfied. It was a humiliation that bordered on theft. He vowed from then on he'd always get his money's worth. He apparently learned the only way to get that was at gunpoint. These intimate details, though, were unknown to Hughes. They would have helped.
---
Robert G. told the sergeant that his first conversation was with Hansen, in the parking lot, outside the room. It was small talk about how his guest must still be tired. Hansen insisted he was much refreshed after a shower. Soon, Sgt. Hughes was asking about Patty.
Sgt. Hughes: Did you see the girl at this time, and if so, would you describe her to the best of your ability?
Robert G.: I don't believe I saw her during our conversation, it was at the close of our conversation or towards the close of it or at the close of it that she came out, went to the passenger's side, got into the car. I'm not sure whether she opened the door herself or whether she closed the door herself, but he was in the vicinity of her side of the car at the time she came out.
Sgt. Hughes: How would you describe this girl?
Robert G.: Young. I would guess her age in the early 20's [Ed. she was 18]. Not skinny in any way, but slight of build. She was not a tall girl, but not a real short girl. I would assume she could be somewhere 5'2″ to 5'4″. I would guess her weight at approximately 118 to 123 lbs, around that bracket. She had dark hair and quite a bit of hair, as I recall it, it seemed to be in a upsweep or piled up on her head. She very definitely had a lot of legs in view, by that I mean I saw no skirt. I saw coat but I saw no skirt extending below the coat. The coat was probably just not much below hip length.
"She didn't acknowledge hardly my presence."

Robert G., Sunrise Inn owner, speaking of Patty Roberts
---
Patty had already told Hughes about her sexual encounter ordeal with Bob Hansen. She'd even gone into the intimate details. The sergeant was obliged to pursue that line of questioning wherever it took him. One supposes there was no one better positioned to answer that question than a motel owner. He too had seen his share intimate details.
Sgt. Hughes: Mr. G., at the time you stripped the sheets and made your first cleanup of this room, was there any indication to you that there had been sexual activity in this room?
Robert G.: Well, when you clean rooms about Motels, you learn to recognize this pretty rapidly, and yes I would very definitely say that there had been sexual intercourse on the bed.
Sgt. Hughes: Mr. G., did you particularly notice anything unusual in the relationship between these two individuals renting unit #4?
Robert G.: I wasn't really around them enough to come up with something concrete. I just, a slight feeling of relatively aloofness between the two of them or a coolness which she rather communicated to me. Also by the fact that she didn't acknowledge hardly my presence.
---
Even with this, there was only so much the motel owner could provide. The interview was conducted three weeks after the event. The sheets had been laundered. But what he could say was important. These two had been intimate. But they were not intimate. It didn't look right.
---
Copyright Leland E. Hale (2020). All rights reserved.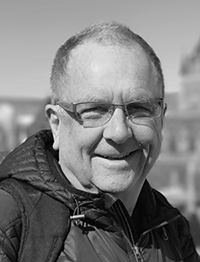 Purchase Butcher, Baker
Order my latest book, "What Happened In Craig," HERE and HERE, true crime on Epicenter Press about Alaska's Worst Unsolved Mass Murder.