After the incident with Robert Hansen blew up in their face, it fell to Luther Dancer to write up a report. He addressed his report to one Stanley J. Zaborac, Jr. Zaborac just happened to the the Correctional Superintendent of the Alaska State Jail. The Main Man. And there, in black and white, was an admission of sorts. Dancer confirmed what the correctional officers thought they knew. They were supposed to hold Hansen's clothing as evidence.
Here we review Dancer's memo to the Supt. in its entirety [emphasis added].
MEMORANDUM
"At approximately 7:30 PM on December 28, 1971, Sgt. Marsh asked me to take Mr. Robert Hansen for processing. Sgt. Marsh stated that the State Troopers wanted Mr. Hansen's clothing for evidence. I took Mr. Hansen to the change room and placed his clothing in plastic bags. He was then dressed in institutional clothing. Upon return to the main floor, Officer Jordan asked for Mr. Hansen to step to the booking desk to complete his booking jacket.
Were officers confused about the nature of the evidence?
"When Officer Jordan finished the booking jacket on Mr. Hansen, he was the returned to my custody for completion of his processing. At this time Officer Jordan called me on the phone and asked me to search Mr. Hansen as he thought he had taken something from his wallet and put it in his pocket.
Evidence Found, Not Recognized
"In his left rear pocket I found his receipt for his personal belongings and a white piece of paper sack with the name of X. Roberts [Patty's son] written at the top and the name Thomas Roberts XXXX "P" Street, Anchorage, written about the middle of the paper.
"I asked Mr. Hansen what this information was and who was Mr. Thomas Roberts. Mr. Hansen stated that Mr. Roberts was the man who was going to help him raise his bail money and he needed this information to give to his lawyer. The paper was returned to Mr. Hansen and he was placed in a cell.
"I reported to Officer Jordan what I had found in Mr. Hansen's pocket and what Mr. Hansen had stated to me at the time."
End of report.
---
Had the officers known all along — with pinpoint accuracy — that the object of the evidence hold was that torn scrap from a white paper sack? There's some confusion here. It's hard not to think that Dancer was engaged in a bit of cover-up. But it's also easy to see the possible break points all along the Hansen's path through the jail.
Discontinuities
If Sgt. Marsh actually said they wanted to hold Hansen's clothing, that's the first break point. They did not focus on the contents of his wallet. The second break is the constant shuffling of Hansen from place to place within the jail. Part of that seems driven by the focus on Hansen's clothing. Note that Dancer immediately takes Hansen to a new location and puts him in institutional garb.
The third break is when they returned Hansen to the main floor. At this point, Hansen — Robert Hansen the hunter — has had ample time to suss out his erstwhile keepers. He already knows what he wants. When Officer Jordan turns his head for a mere second or two, Hansen strikes.
A Fatal Error
And then they moved Hansen for final processing. Note that Jordan has to telephone Dancer with the admonition to "shake" Hansen. The two officers are no longer proximate. Jordan has rightly spotted Hansen's sneaky behavior. He calls it out.
But Dancer, separated from Jordan, doesn't see the problem. They had the evidence all along that tortuous path. Until they didn't.
---
Copyright Leland E. Hale (2020). All rights reserved.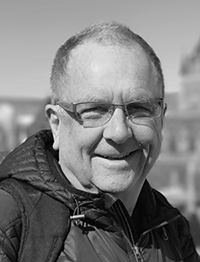 Purchase Butcher, Baker
Order my latest book, "What Happened In Craig," HERE and HERE, true crime on Epicenter Press about Alaska's Worst Unsolved Mass Murder.