The interviews of the various witnesses came against the background of what Robert C. Hansen had already told police investigators. Police interviewed within a day of Patty's report. They also arrested him. As always, Hansen was slippery, admitting just enough to seem credible, while never quite rising to the bait. He was also starting to learn that by calling his alleged victim a prostitute, he could slither away unharmed.
---
Interview
MR. HANSEN was interviewed at Anchorage Police Department by Detective Ron Rice and this investigator [Sgt. Don Hughes]. The interview began at approximately 5:20 p.m. Prior to the interview, MR. HANSEN was advised of his rights, the Miranda Warning and the Waiver of Rights, which he replied he understood and would talk to us. Present at this time was the defendant, Detective Ron Rice and this interviewer. Interview took place on 12/28/71. [Ed. Note: This is one day after the Patty Roberts interview.]
MR. HANSEN, for the first 45 minutes to an hour, maintained that he had no idea what we were talking about. Several times during this interview, there were pauses to let MR. HANSEN collect his thoughts. He continued to maintain he remembered nothing.
His Handwriting
He was shown a copy of the Registration card for Sunrise Inn on the Seward Highway, which is known to have been written by the person registering there on Sunday morning, 12/19/71. He looked at it and admitted it looked like his writing, but would not state definitely that he had written it. He was asked if he had anything in his wallet that bore his handwriting.
He produced his wallet and emptied it on the table top and looked for something with his writing on it. It was at this time tht he opened a triangular piece of white paper, and put it down, and I saw that written on this piece of paper was the name "THOMAS S. ROBERTS, XXXX "P" Street, Anchorage, Alaska."
I asked him what the name on the paper was, and he professed complete ignorance of it, of the name, or how it got in his wallet. I then questioned him again about the girl he had met at the Nevada Cafe that morning, and then began to give bits and pieces of thoughts concerning this girl.
She Was a Prostitute
He continued on, quote… "I think she was a prostitute. I think she said something about her price as $75.00."
He then asked no one in particular, "Did she have black hair?" I answered him, "Yes, she had back hair."
Again, a question to no one in particular, "Does she have a little child?" Again, I answered him, "Yes, she has."
After considerable pause, "Seems like the girl had marks on her arm, and that she took dope, that she needed to make some money…. she didn't have any place to stay."
---
Given the damning evidence on that piece of paper, Hansen quickly tossed Patty Roberts into the realm of the damned. She was a prostitute, he said. She used dope. The prostitute bit would become a recurring through-line. Not just that he began to focus his rampage on these women but that, somehow, he thought he could get away with it if he did.
For the better part of a decade, he was right.
---
Copyright Leland E. Hale (2020). All rights reserved.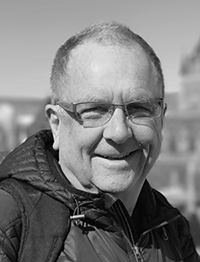 Purchase Butcher, Baker
Order my latest book, "What Happened In Craig," HERE and HERE, true crime on Epicenter Press about Alaska's Worst Unsolved Mass Murder.