Robert Chris Hansen had done time in the early 60's, in Iowa. While there, he got some psychological treatment. It didn't take. The best thing was help for his stuttering. That worked a little better — not perfect, but better. Now, three thousand miles to the north, he was scheduled to do time all over again. The charges were more serious, but Bob knew the game. He would go along with the treatment. It was his ticket.
With a five year prison sentence, Hansen clung to a glimmer of hope. The parole board could release him back into the community. There would be conditions, but it seemed infinitely better than jail. The first step happened in almost an eye-blink. Within six months Hansen was sent to a halfway house, where he started a work release program. Not the same as parole, but a step toward freedom.
Treatment Progress?
By then, Hansen was already four months into weekly therapy sessions with Dr. Allan Parker, a psychologist at the Langdon Clinic. Parker would ultimately report that Hansen's treatment was making progress. There were problems in his marital relationship, Parker noted, but "he has resolved most of the problems between them that in some part predisposed him to the type of crime he committed."
Which was a nice way of pointing to sexual issues between the husband and the wife.
Perhaps it helped that, while on work release, Darla came down and drove him back and forth from his job. On weekends he had passes to visit his family, which firmly entrenched Darla as his driver and help-mate. She was there for him. And he was, to some degree, in a cocoon of control.
But before long, he was allowed to drive himself. And Robert Hansen's behavior quickly reverted to type. It was his little secret from his wife, from his therapist, from the world. The treatment wasn't working in the least. Hansen, in his 1984 confession, finally admits as much.
Robert Hansen's Confession
"Sir, even while I was in the halfway house, ah, you know, I was there for a while and first my wife would come down and ah, or one the police officers would drive me back and forth. I held down a job while I was there. Then before long I could drive myself back and forth.
"I was supposed to drive just to and from work. But I would drive from work, I'd drive up town in a hurry and sit there and just look at the prostitutes walking up and down the street, and ah, I'd get a tremendous — the things that we'd done there… the motel room there, the time that we spent there ah, excited me like I'd never been excited before in my life, and ah, I couldn't, gosh dang, I think the first night they allowed me to drive back and forth myself, the very first night I was uptown parking there just to watch the prostitutes walking forth.
Sexual Blowup Charge
"Because it give me this here sexual blowup charge, ah, I got to thinking right at that time, even when I was in jail, that boy I couldn't wait till I could do it again."
---
Anchorage in the 1970's was a sexually-charged environment, with all manner of establishments catering to the needs of pipeline workers and their ilk. An undercurrent of violence was always lurking there, too. All of this was way more than Robert Hansen could handle. There ain't no cure for the Bob Hansen blues.
---
Copyright Leland E. Hale (2020). All rights reserved.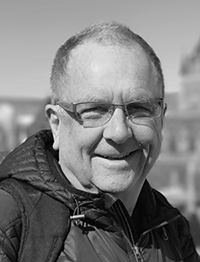 Purchase Butcher, Baker
Order my latest book, "What Happened In Craig," HERE and HERE, true crime on Epicenter Press about Alaska's Worst Unsolved Mass Murder.