June 1983 – In our last installment, we revealed how Robert Hansen managed to gather two alibi witnesses in his favor. It was the early days after Cindy Paulson's escape and he desperately needed folks who'd testify to his innocence. It was in these early days that fake-alibi witness John Henning got a bright idea. He had a friend who was a cabbie. As Henning put it, "let's get this cabbie to say he delivered pizza and beer to us while were together that night." Why not? With the cabbie, they could take their alibi witness roll to three.
Frank Rothschild: "… they go over to this guy's house, the two of them, and they tell this man, we need an alibi. We'd like you to say if it comes up that you, as a cab driver, drove and brought us some pizza and beer and that you saw us, so you can tell the police. And [the cabbie] went along with it."
More Lies
That wasn't all. John Henning was just getting started. He advised Bob to get an attorney. And Henning went ahead and contacted a doctor friend at Humana Hospital, asked him to get Cindy Paulson's records. They wanted her name and address, because Henning's buddy was in some trouble. And Henning's doctor friend did, in fact, go to the emergency room doctor who treated Cindy.
Dr. Hollingshead refused. He told Henning's doc friend that the police were now involved. That he suspected this was the guy who was abducting women off the streets. Hollingshead told the snooping doctor to back off. And he did.
Give Henning credit. He tried to be a good friend. But at this point, John Henning should have started to see the light.
He didn't.
Gregg Baker Comes Through
That light instead belonged to Sgt. Gregg Baker. When Baker's superiors dropped the ball on Hansen, Baker picked it up. Picked it up and ran it to the troopers. "I think this is a guy you might want to look at," Sgt. Baker told them. He proceeded to tell them the extraordinary tale of Cindy Paulson and her miraculous escape. It wasn't on a lark, either; Baker knew he was taking a risk, knew that going to the troopers could get him in trouble with his superiors.
He went anyway. This was a case where acts of courage, large and small, would finally start to add up.
---
Copyright Leland E. Hale (2021). All rights reserved.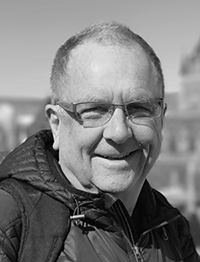 Purchase Butcher, Baker
Order my latest book, "What Happened In Craig," HERE and HERE, true crime on Epicenter Press about Alaska's Worst Unsolved Mass Murder.