When the Anchorage Police Department dropped the ball on Cindy Paulson, it looked like everything in Bob Hansen's desperate plan was working. The attack on Cindy's character — that she was nothing but a lying whore? Working. The assertion that he couldn't possibly been where she said she was? Working. His bevy of alibi witnesses? Working. What could possibly go wrong?
What could go wrong, besides Anchorage Police Officer Sgt. Gregg Baker?
Baker went to the troopers, totally on the Q.T. It was risky, because he brought proof with him. APD case files, to be exact. And the troopers, for their part, took him very seriously, especially when he said, "I think you might want to look at this." He told them about Cindy Paulson, about what had happened to her, about what they'd seen when they followed her to the places she'd been.
Evidence Found
The airplane, with its tail numbers. His car, identified by an airport guard. The information that led them to Hansen's house. The house with the antlers on the roof, just as Cindy had told them. The Ace bandages they spied in the back of his car. The shell-reloading equipment in his garage, though no weapons were found.
From there is was still a long slog. Lots of digging through police files, some of them temporarily missing because of a then-current digitation of police files. And calls to Iowa, to grab the earliest case files. And then… The D.A.'s office assigned Ms. Gail Voightlander to help get a search warrant from Judge Carlson. They finally got their wish. Things were finally working.
A Sailor's Booty
Frank Rothschild: "And what do we find when we go out to his house? Well, amazingly among other things we have a man who is a three time felon, three time felon who's been demonstrated as a danger to the community by two judges, by psychiatric experts. He's got nine shotguns, twelve rifles, he's got reloading equipment and he's got five handguns in his house. A man with psychiatric problems, a danger.
---
Copyright Leland E. Hale (2021). All rights reserved.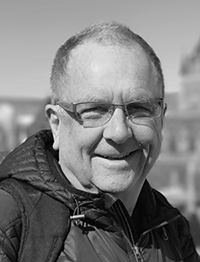 Purchase Butcher, Baker
Order my latest book, "What Happened In Craig," HERE and HERE, true crime on Epicenter Press about Alaska's Worst Unsolved Mass Murder.