Girls for hire. That was the watchword at Seattle's Talents West. In Anchorage, among a small coterie of entrepreneurs, it was a well known secret. If you wanted a steady supply of dancers at your club, you had to deal with Talents West. They had the dancers. And, they promised, they would send you a new batch of talent every week. How could you beat that, especially in Alaska, with its chronic dearth of women?
By August of 1985, just months after Bob Hansen was sent away for good, the strip clubs were back to business as usual. Edna Cox, the hard charging owner of the Great Alaskan Bush Co. was, according to reliable sources, in negotiations with Talents West. She wanted to contract a steady supply of dancers for her thriving businesses. And, these same sources revealed, she was looking at taking over the liquor license of another strip club, the former Good Times on Dimond Boulevard.
Organized Crime for Hire
Both the Good Times and Talents West were controlled by Frank Colacurcio, a Seattle "businessman" and reported organized crime boss. Indeed, there was another Anchorage club soon to be up for grabs, also with Colacurcio ties. That was the Wild Cherry, which had recently reopened after losing its liquor license and was making an unsuccessful bid as an alcohol-free strip club. Without booze, its revenues had plummeted.
Sherry Morrow's Last Shift
Talk of the Wild Cherry always brings me to Sherry Morrow. She was a popular hire and, at that point, a local. The Cherry, as it was known, was one of the last places she was seen alive. It was a typically cold November night. Her shift started at 11:00 p.m. That's when the hardcore denizens of the strip clubs came out to howl at their own, nightmarish version of the moon. Among them, one Robert C. Hansen.
Sherry had plans that night. Her boyfriend had dropped her off at the club, but she wasn't going back to his house. She had a doctor's appointment the next day at noon. The plan was to stay at a girlfriend's house in town, then make her way to the doc's office the next morning.
She never made it. She was instead found nearly a year later, in a shallow grave along the Knik River.
Personal Memories
My first trip to Anchorage in pursuit of the Butcher, Baker story was the spring of 1984. Robert Hansen had just confessed to his heinous crimes and had been sentenced to more jail time than any mortal can bear. I was on the path to a baptism by fire.
One of my first treks was out to the Knik River, in a trusty pickup that bumped and shivered over the rough, unpaved and potholed-poor-excuse of a road that led there. Our destination was the first Hansen grave found on the Knik. It belonged to Sherry Morrow. The physical setting reminded me, superficially at least, of my family cabin along Washington State's Stillaguamish River. The scrub trees. The long, narrow stretches of gravel, punctuated by sand. The perpetually green mountains, rising like dark shadows in the background.
I felt that memory, that is, until we reached Sherry's grave which, even then, stared out like a vicious scab upon the landscape. This was no place to die.
Women for Hire
I always laugh to myself when I say this, but one of my other research projects during that first visit was hanging out in one of the strip clubs. The one I chose was, in fact, owned by Edna Cox. I'd like to say she was happy to see me.
As I recall, no sooner had I grabbed a table — in the back, away from the action — than I was approached by a tall, willowy blonde who told me she was from Sweden. Maybe she was. There was small talk. She asked what brought me to Anchorage. I said Robert Hansen. I was writing a book about Robert Hansen. She'd never heard of him. But Edna Cox had.
Minutes later, Edna was in my face. Kicking me out of the club. "Some of these girls knew Hansen," she admonished me. "I don't want you upsetting them."
Well, that was one way to look at it.
---
Copyright Leland E. Hale (2021). All rights reserved.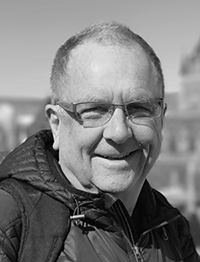 Purchase Butcher, Baker
Order my latest book, "What Happened In Craig," HERE and HERE. True crime from Epicenter Press about Alaska's Worst Unsolved Mass Murder.