Their stop at the Kenai Lake Lodge brought to mind Robert Hansen's promises. He had promised her cigarettes, he bought her cigarettes. He promised a cabin; this was it. This was the time when her reckoning was close at hand. This was the point where Patty could no longer put off "having relations" with this quirky, volatile individual. Would her hands be tied while they had sex?
---
Patty Roberts: "At this time, I was still in the front seat. He got out of the car and about this time a small girl, about nine to twelve years old, blonde hair, came out of the side entrance of the building. He went up to her and asked if they had cabins for rent. The little girl said they didn't. He got back into the car and went back down the highway toward Anchorage. And after just a few minutes he stopped at a pull-off and tied my hands to the right door rest.
Roberts: "He went on and in a few minutes he pulled into Sunrise Inn and parked right up to the front of the building. He said he was going to rent a room. He had told me earlier that he planned to tell the motel operator that we were from Fairbanks and on our way to Homer on a business trip and we were tired and were going to stop for a couple of hours rest.
Roberts: "After we stopped he told me not to attract any attention because he could see me through the big windows and he'd hate to have to kill any innocent people because of me. Before he got out of the car he took his glasses off and put on a knit stocking cap which he rolled up around the edges. I remember he once mentioned that if he got stopped by the police for anything on this trip he'd just have to shoot the policeman. He always had his gun handy, on his lap, on the dash or stuck inside his belt.
Roberts: "He was in the cafe at the lodge just a short time when he came back and drove the car to Cabin No. 4. He untied me from the door rest, left my hands tied and then had me carry my dress and purse over my tied hands. He got out of the car first and went to the cabin door and opened it and then came back to my side of the car. He told me to get out and act normal and go into the room. After we got in he told me to sit on the bed and stay there. He went back to the car and brought something in, maybe a coat."
---
One might legitimately wonder about the believability of Hansen's tall tale to the motel operator. They were so close to Homer it was almost silly. Why not push through those last 122 miles?
But it was December, a month of long nights. It was early in the morning and still dark. The roads could be treacherous. They'd allegedly driven eight hours from Fairbanks. Better to stop if you're tired.
---
Copyright Leland E. Hale (2020). All rights reserved.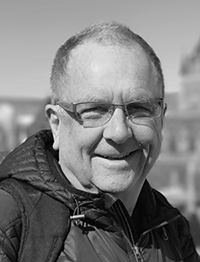 Purchase Butcher, Baker
Order my latest book, "What Happened In Craig," HERE and HERE, true crime on Epicenter Press about Alaska's Worst Unsolved Mass Murder.