At the risk of implying that the Butcher, Baker is somehow back from the dead… HLN (Headline News) is premiering its 2-hour program, Very Scary People, on Sunday, May 9th. It's all about Robert Hansen and promises to reveal new, and previously unknown, details about a very scary person.
The HLN Schedule
Part 1 of VERY SCARY PEOPLE: ROBERT HANSEN: THE BUTCHER BAKER: TERROR IN THE WILDERNESS premieres THIS SUNDAY, 5/9, on CNN'S HLN (Headline News) at 9p ET/PT.
Part 2 follows at 10p ET/PT. It's entitled: VERY SCARY PEOPLE: ROBERT HANSEN: THE BUTCHER BAKER: THE GIRLS WHO GOT AWAY.
The Experience
I had the great pleasure of working with the HLN crew on this series over the course of several months. Yes, in the midst of COVID. The precautions they took were stellar. We worked out of a hotel conference room that had been sanitized and sealed for 48-hours. The crew — sound and camera — had tested negative for COVID. They both wore masks during the shoot. The interviewer — the inimitable Linda Zaleskie — was on a Zoom meeting, talking to me through a MacBook Pro.
There were only a few hiccups. At one point, we noticed flashing lights outside the darkened conference room windows. Yep. A police stop. It was the cameraman who said, "Whoa, they've got their guns out." And, soon thereafter, "they're putting the cuffs on." It was surreal — true crime against the background of true crime. Very scary.
As if to cap off the night, there was another incident after that. With 20-minutes of film left, the hotel's fire alarm went off. The desk clerk couldn't stop it. That takes the fire department. Luckily, the alarm sound stopped. All that was left was the strobe light, blinking insidiously. Can't flim with that going on. Except… The crew pulled out some black electrical tape and sealed off the strobe. ACTION!
---
Copyright Leland E. Hale (2021). All rights reserved.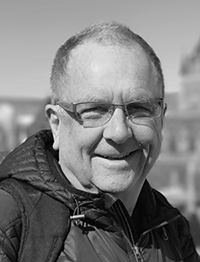 Purchase Butcher, Baker
Order my latest book, "What Happened In Craig," HERE and HERE. True crime from Epicenter Press about Alaska's Worst Unsolved Mass Murder.