This blog received a comment recently, from Robin Price's daughter. One of my first thoughts was how her comment is a pointer to all the lives affected by just one man. And it probably isn't the man you're thinking. It's someone else. An aider and abettor.
My mom is robin price, she told us this story when I was younger. She worked at the Monroe correctional facility prison in Washington. And Hansen attempted to be transferred there and was denied as my mom was an employee.

Robin Price's daughter
A Life of Crime
Frank Colacurcio, the eldest of nine children, was born to Italian immigrant farmers on June 18, 1917. Coming up in Bellevue, Washington, he grew up during the so-called "rackets era," where drugs, gambling, prostitution and corruption ensnared businessmen, government officials and police alike. He was first imprisoned in the early 1940's, for "carnal knowledge" of a teenaged girl, in a crime actually committed by one of his associates.
In 1957, Frank was subpoenaed by the U.S. Senate Rackets committee, but did not testify. Publicly identified as a racketeer, he was involved in vending and pinball machines, prostitution, bookmaking and other vice-affiliated activities. The feds convicted him of income tax evasion in 1974, and he was sent to the Federal Penitentiary at McNeil Island.
On his release in 1976, Frank embarked on a new venture. He and his associates invested in failing bars at bargain basement prices. They quickly expanded from their initial Hawaiian clubs to operations in Colorado, Texas, Alaska, Washington State and British Columbia. The lure was simple: we'll bring in topless dancers and you, failing bar owner, will start raking in the dough. This simple proposition soon endangered lives right and left.
Talents West
When you run a wide swath of topless clubs, like the Colacurcio's did, you need one thing more than anything else. Dancers. Topless dancers. Bottomless dancers. The Colacurcio organization had a solution. They formed a company called Talents West and ran it out of a ramshackle building along Seattle's Lake City Way.
The entire operation was a scam from top to bottom. Because Frank Colacurcio was a convicted felon, he couldn't own a liquor license. That wasn't a problem. The failing bar owner kept ownership of the club and the license. In exchange, Colacurcio would install another layer of management. His management. It was their job was to skim the profits.
One of Colacurcio's associates reported skimming up to $68,000 per month for Frank Colacurcio. From just one club.
A Steady Stream
The thing is, though, the men who go to topless clubs are easily bored. They don't want to see the same dancers every time they visit. They might not come back. Talents West solved that problem too.
New "go-go strippers" were shipped into the clubs each week from Seattle. The result was a constant parade of new women. Their lives in service of tips, on an assembly line of lust.
In Anchorage, the Colacurcio's ran three clubs, some of them in prime spots along its notorious 4th Avenue Strip: the Wild Cherry, Good Times and Booby Trap. Do the math. In a good month, they could clear $200K.
The women, meanwhile, were there for a while and then moved on. Some of them went to Colacurcio clubs in Hawaii, Colorado, California — or as far east as Florida. Some of them moved into Robert Hansen's orbit. Too many of them ended up along the Knik River. In shallow graves. Their lives lost.
Copyright Leland E. Hale (2021). All rights reserved.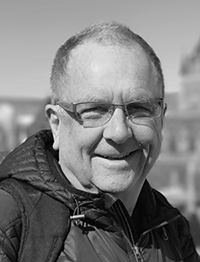 Purchase Butcher, Baker
Order my latest book, "What Happened In Craig," HERE and HERE. True crime from Epicenter Press about Alaska's Worst Unsolved Mass Murder.