Robert Chris Hansen was shipped to a federal prison in February 1984. His confession cleared up some (but not all) of his damage. Sending him out of Alaska seemed to close the chapter of the Missing Dancers. An Anchorage Daily Times article of February 28, 1984, however, reminded readers that if Hansen lived to be 75, the cost of his incarceration in the lower 48 could cost as much as $405,369 in 1984 dollars. This man, who'd come to the end of his tether, was costing Alaska dearly.
Unfortunately, Alaska was not finished with costly crime sprees. An April 3, 1983, AP story — carried in English-language newspapers across the globe — headlined with a story titled, "Mass Murders Shake Alaska." At the time, they were highlighting five separate cases with a total of 25 victims. The tether was breaking.
Bad News Gets Worse
A year later a different headline was screaming the bad news. The Ketchikan Daily News headline for September 10, 1984, read: "Investor slayings one of 6 mass murders in Alaska." By that time, the death toll was up to 48 victims.
Those totals included the Hansen murders in Anchorage and the Bunday murders in Fairbanks, which were serial murders. Even so, a horrific death toll for a state that barely hit half-a-million citizens. The tether was broken.
They were: 17 murders by serial-killer Robert Hansen in Anchorage (1971-1982); 5 murders by serial-murderer Thomas Richard Bunday in Fairbanks (1979-1981) (2); 4 murders by mass murderer Charles Meach in Anchorage (May 1982) (3); 8 killed by a mass murderer in Craig (September 1982); 6 killed by mass murderer Louis Hastings in McCarthy (March 1983); 8 killed by mass murderer Michael Silka in Manley (May 1984).
"It's always been true that rural Alaska is a violent place."

John Havelock, University of Alaska Justice Center
Sobering Crime Stats
According to FBI Uniform Crime Reports, Alaska's murder rate during this period was above the national average. In 1981, it was 14.6 per 100,000 compared to a national average of 9.8 per 100,000. In 1971, it was 9.5 per 100,000 in the state, compared to 9.0 nationally.
The Last Frontier, in other words, had symbolic as well as literal meaning. The 80s was a deadly decade.
The stories out of 1985 did little to change that impression. And that was just for the month of October in Anchorage. Four wounded. Two killed. And of those six shootings, assailants had only been identified in two of them.
"I'm not sure it's any more than usual," APD Lt. Bill Casto said of the month's shooting tally. "In talking with homicide [investigators], it's not so much the number of incidents as it is the seriousness of the shootings."
End of Tether
If there was a corrective, it seemed to be:
"It's always been true that Alaska is a violent place."
Former state attorney general Havelock (quoted above) put the problem succinctly: Alaska, he said, is a place for people "who are coming to the end of their tether."
---
Copyright Leland E. Hale (2022). All rights reserved.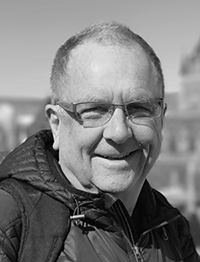 Purchase Butcher, Baker
Order my latest book, "What Happened In Craig," HERE and HERE. True crime from Epicenter Press about Alaska's Worst Unsolved Mass Murder.