After Robert Hansen lost his appeal against the search warrant — and with it the ability to suppress damning evidence — the criminal justice system resumed its steady pace. Only two weeks after losing that battle, the court system put him on their calendar… And scheduled Hansen's trial for the rape and kidnapping of Cindy Paulson. His plea stood firm: Not Guilty.
And then, at the end of February 1984, came the news. Robert Hansen was — maybe? — poised to change his plea. Judge Ralph Moody would confirm only one thing. A "change of plea" hearing was scheduled for Monday, February 27, 1984. Everyone else was mum. District Attorney Frank Rothschild refused to discuss the particulars of the pending plea change with reporters. Defense attorney Fred Dewey could not be reached.
Changed Plea
The preliminaries had, in fact, taken place more than a week before. On Thursday, February 16, Sgt. Glenn Flothe got a call from Frank Rothschild. "I want you to come down here and meet with us," Rothschild said. "Right now if possible."
Glenn Flothe sensed something momentous. Asked for specifics, Rothschild did not disappoint. "Hansen's attorney just called. Hansen says he wants to 'clear the decks.' Those were Dewey's exact words. 'He wants to clear the decks.'"
Even a casual perusal of the Anchorage newspapers helped tell the tale. Their stories were rife with the details of what troopers had found at Hansen's home. The gun in the attic that matched the spent shell casings found at Knik River grave sites. The one-of-a-kind necklace belonging to Sherry Morrow. The business cards of two missing women. And the rifle. The all-important .223, found amongst the insulation in Hansen's attic.
Robert Hansen had to know this. The "leaks" were designed for his delectation. And looming above them was the one thing he could not bear. Robert Hansen was scheduled for trial. To face his accuser. That meant was he would also have to expose his crimes — and the evidence of his crimes — to the world. And, most importantly, to his family. To his wife and children.
Hurt Upon My Family
That fear became clear only minutes into his February 22, 1984 confession. The first order of business was for Bob to sign a waiver of rights. They didn't want him to backout of his confession at a later date. It was during this signing ceremony that Hansen made his big reveal.
"And my main purpose, of course, behind the whole thing," he said, "is to minimize in anyway possible the hurts and so forth that's going to bring upon my family."

Robert C. Hansen
Hours later, after Hansen had given a partial confession — and continued to negotiate the terms of his sentencing — Frank Rothschild offered an unprompted commentary. When Vic Krumm noted that Hansen was "not even halfway done" with his confession, Rothschild had an astute reply.
"No," Rothschild said, "but he is a hell of a humanitarian for his family isn't he?"
---
Copyright Leland E. Hale (2022). All rights reserved.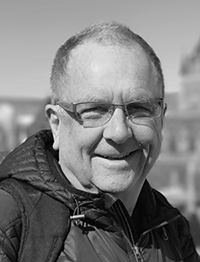 Purchase Butcher, Baker
Order my latest book, "What Happened In Craig," HERE and HERE. True crime from Epicenter Press about Alaska's Worst Unsolved Mass Murder.