When Winona Fletcher knocked on the kitchen door that April day in 1985 [1], she used her smallest voice to tell Tom Faccio she was having car trouble. Told him she needed help. Needed to use his phone. When the bulky Italian opened the door, he likely didn't expect any trouble from the stocky, 5-foot-2-inch girl standing before him. In an instant, she pulled a .22 handgun from behind her back and aimed it directly at him. She was now the face of terror, threatening bodily harm.
Tom Faccio struggled to disarm her. The gun fired, sending a .22 caliber bullet through the plexiglass storm door just off the kitchen. Police initially thought a much larger weapon was responsible. Their tests proved otherwise.
Alarmed by the sound of gunfire, Anne Faccio scurried from the living room, rushing to assist her husband. As she entered the kitchen, another stranger came into view. It was a masked Cordell Boyd, armed with a .357 magnum revolver. Now the terror had two faces.
Boyd ordered the couple into the living room. Tom Faccio had to abandon his half-eaten dinner on the kitchen table.
At Boyd's direction, Fletcher scoped the rest of the residence. First, she hit the basement, searching for anyone she could find. There was no one. Back on the main floor, however, she spotted Emilia Elliott, sitting outside on the patio. Why Elliott hadn't escaped remained a mystery [2]. What police knew was that Fletcher herded Elliott into the living room with the others.
Boyd handed his .357 to Winona and told her to stand guard while he searched for something to restrain them. It was then that Ann Faccio slipped her wedding ring onto the floor near the couch.
Boyd, meanwhile, found neckties in Tom Faccio's dresser. They would have to do. While Boyd methodically tied up Tom and then Emilia, Ann Faccio became ill. Perhaps she was suffering an anxiety attack or, worse, a heart attack. Boyd directed Fletcher to take Ann to an upstairs bedroom. Once there, Fletcher tore the Princess phone off the wall. She didn't want Ann Faccio calling the police.
But as Winona Fletcher returned to the living room, she had something else on her mind.
Fletcher Not Masked
Emilia Elliott had reminded them that, while Cordell wore a mask, Winona was undisguised. Winona had already said, before they entered the premises, that she was willing to kill any witnesses. Now it was time to make good on her promise. Returning to the upstairs bedroom, she held the .22 and fired two rounds at Ann Faccio. The first one missed, striking a wall instead. Cordell rushed upstairs. Winona fired again, this time at point-blank range.
"At the time of shooting Ann Faccio, Fletcher laughed after being unable to hit her with the first shot. Then, when Mrs. Faccio was praying for Fletcher, presumably asking for God's forgiveness for Fletcher, Fletcher became angry, placed the barrel of the .22 approximately three inches from Mrs. Faccio, discharging it into her head and killing her."

Judge Karl S. Johnson, noting that Fletcher was a drug-using, prostituting, braggart who killed Ann Faccio for the thrill of it.
Final Terror
Back downstairs, Fletcher vowed to finish the job. She fired her .22 again, this time hitting Emilia Elliott in the right temple. Tom Faccio, having seen Elliott killed before his eyes, somehow managed to free himself. He begged for mercy, offering the two of them $700 cash in exchange for his life. They took the money. But Cordell Boyd was on the hook. Winona Boyd was mocking him. She was not done with this terror. Not wanting to risk the noise of his .357, Boyd grabbed Fletcher's .22. He shot Tom Faccio twice, once in the chest and then in the head.
The terror had finally reached its tragic end.
After the killings, Winona Fletcher giggled over Ann Faccio's agonized death throes and bragged about what she had done compared to Boyd, who cried and expressed remorse about his actions. What Boyd had planned was a simple burglary. It had gone horribly wrong.
They fled the scene, cash in hand. Went to Boyd's sisters house, where they tossed their guns in he woods. Spent the night at the Thunderbird Motel in Spenard. Soon enough, Boyd was picked up on an unrelated burglary charge and held at the Cook Inlet Pretrial Facility. Once there, he talked up a storm. The end was nigh.
Sources: Anchorage Daily Times (Earl Swift, Beth Barrett, Christopher Jarvis), Associated Press (Hal Spencer); Anchorage Daily Planet (Tamara Lienhart)
---
[1] The initial report that the intruders came to the front door was based on preliminary information (and a desire not to publicize critical evidence). The bullet hole at the kitchen door — combined with Tom Faccio's half-eaten meal — pointed to the kitchen as the entry point, not the front door.
[2] It's possible Elliott did not hear the .22 go off. She may have been distracted by the pleasant evening. At 6:00 pm, temperatures were in the forties, but comfortable. Sunset was still hours away, with twilight lingering until 9:30 pm. Alternatively, she may have thought the muffled crack of the .22 emanated from elsewhere. Random gunfire was not uncommon in their remote neighborhood.
---
Copyright Leland E. Hale (2022). All rights reserved.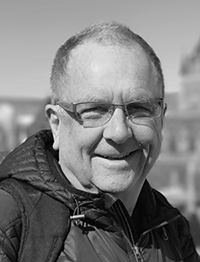 Purchase Butcher, Baker
Order my latest book, "What Happened In Craig," HERE and HERE. True crime from Epicenter Press about Alaska's Worst Unsolved Mass Murder.