Crime Junkie: Serial Killer: The Butcher Baker of Alaska. The latest Butcher, Baker wave has begun. In this new media world, one broadcast inevitably begets another. It started with Oxygen's Mark of a Killer. Hit a new high with ID's The Butcher Baker: Mind of a Monster.
On the Radar
Within the past week, I have: interviewed with Nancy Grace for a podcast on Butcher, Baker; gave permission for DailyMailTV to use one of my photos for, you guessed it, a "deep dive segment" on Alaskan serial killer Robert Hansen. And then, this morning, I got some pingbacks for yet another podcast episode.
Crime Junkie, for those who haven't heard, is currently the No. 1 true-crime podcast. Hosts Ashley Flowers and Brit Prawat provide a breezy and breathless production that, in 50-short-minutes, recreates some of the most haunting true crime stories of our day (with some historical examples like Butcher, Baker thrown in). The format comes across as two best friends gossiping, over coffee or tea, about crimes that blow their minds.
Crime Junkie Rating: This'll grab you!

Leland E. Hale
What's Next?
It's hard to say what's next. I have learned patience. That's in great part because the first movie offer for Butcher, Baker came back in 1992. Nothing happened, because the producer wanted to set it in Georgia. Georgia? Give me a break.
Then came The Frozen Ground in 2013. That certainly gave Butcher, Baker a second-life (actually a third-life, but who's counting?). But that movie, though set in Alaska, really wanted to be on a desert island, just like The Most Dangerous Game, the movie that inspired it. I consider it a blue-collar version of the original film — grittier, with not quite enough of Hansen's stutter.
Which takes us to this moment, when Butcher, Baker is enjoying… What? A sixth life? Yeah. Let's hope it's a cat.
And by the way, What Happened in Craig is pretty damned good too.
---
Copyright Leland E. Hale (2020). All rights reserved.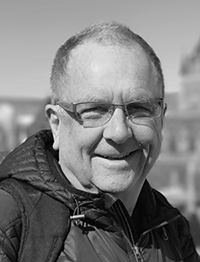 Purchase Butcher, Baker
Order my latest book, "What Happened In Craig," HERE and HERE, true crime on Epicenter Press about Alaska's Worst Unsolved Mass Murder.